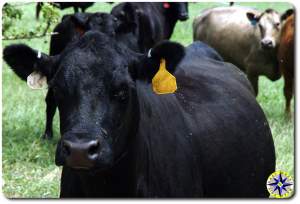 Day 10 stats
Start: Twin Falls, ID
Finish: Wilsonville, Or
Miles: 572
In collage my friend Kevin was stationed in Mountain Home, ID. When I would visit we fished a beautiful little creek in the middle of farm fields filled with hungry trout that would take a fly and fight for their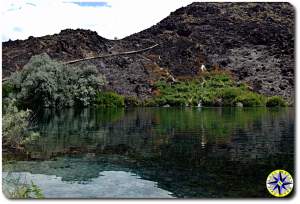 lives by spinning cartwheels through the air. When I saw the sign for Bliss, ID. 20 minutes into our drive, I thought I would show Boy one of the places I fished in my youth.
The great thing about getting older is you can hide your own Easter eggs and for the life of me I could not find the one little turn out in the road Kevin had shown me some 20 years ago. What we found instead; the University of Idaho's research trout hatchery along with a swimming hole that only Mark Twain himself could have dreamed up.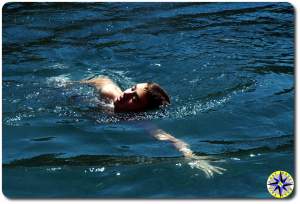 The swimming hole was just the right size to not be called a pond or lake but a real life swimming hole. The water was gin clear and mountain stream cold. There were little water falls around the edge, trout darting around after brilliant blue damsel flies and an old hemp rope tied to a tree stretching out over the water. I think it is the rope swing that makes this an official swimming hole.
I don't know whether Boy or I was more excited when we rounded the corner and gazed at our reflections in the water but we both knew for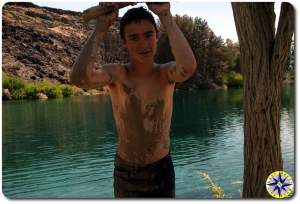 the next few hours this would be our own little oasis in the desert. The pictures give only a glimpse into the fun we had. Although I took the Boy's rope swing dare I opted out of the roll in the mud portion of day's festivities.
Sure we spent too long at the swimming hole but we could make it up… at least that is what I told the cow before we pulled into Boise and Boy saw the skate park. This is the park that Tony Hawk and a few others had used to film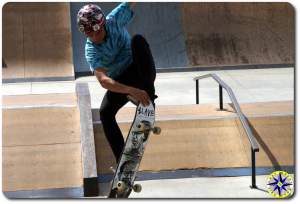 one of their videos. The rig's wheels barely slowed down and Boy was out the door thrashing around another park.
Ok, it was now 6:00 p.m. and we had put a whopping 50 miles under us. Sure we'd had the time of our lives but we have to put some miles down. What gets worse gas mileage than a brick in a wind tunnel? How about our Toyota FJ Cruiser driving 75 mph, against the wind, up hill wearing big heavy tires. At this rate we made good time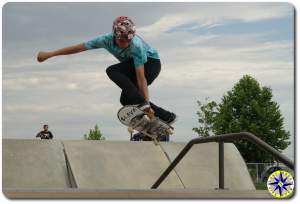 but paid a huge price at the gas pump.
The country stretching out in front of us was unbelievably beautiful and at sunset the hills glowed pink and orange with hints of yellow and brown. As the sunset rolled into darkness, we continued to drive through Baker, Pendelton, The Dalles and into Portland Oregon down to Wilsonville. My sister said she would be up late and just give her a call when we arrived. Standing out side at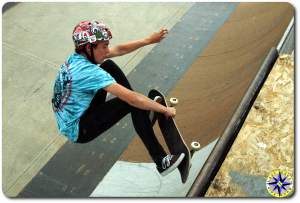 2:30 a.m. with our stuff calling Club Killelea's for the fifth time we started to wonder if the vacancy sign had been pulled in. Just as we were about to start waking the neighborhood, the door swung open and we ran inside before she changed her mind. Service with a smile. Even at this late hour, we were still welcome and found the guest beds turned down and pillows fluffed.
Girl, your daughter: You can edit the next adventure you and I go on… And a road trip to Nordstrom does not count.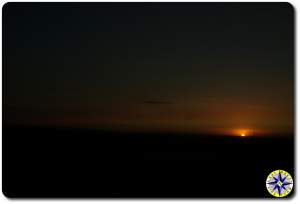 Mark: Thanks for the great comment. We look forward to running another trail with you soon so you can show us how you tackle the really gnarly stuff.
Ripsnort: This trip has been a great time with my son. I find that duct tape helps keep us close. He can't run away if you tape the feet together.