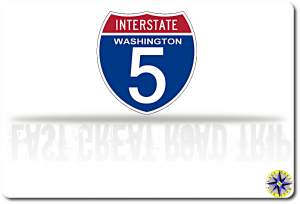 Day 11 stats
Start: Wilsonville, OR
Finish: Poulsbo, WA
Miles: 264
After a night at Club Killelea, which comes with a gourmet breakfast, we rolled out for our last day on the road. Those of you following will recall back on day one we were on a mission to find Boy a new deck to skate. We found it at the Department of Skateboarding (DOS). I always find it interesting how circular our lives are as we found ourselves stopping at DOS for the last skate park on this adventure.
Boy had receive a free session pass when he purchased his board and now 10 days later he is taking advantage of it skating anything in the converted warehouse that will stand still long enough for him to put his wheels on. He continues to skate with the same gusto he did day one.
And as Boy shreds the park, I write trying to catch up on over due stories. This off road adventure was the opportunity for me to spend time with Boy. We drove the open road, we wheeled some 4×4 trails, skated parks across the west and even swam in the perfect swimming whole. The thing that makes an adventure great is not planning everything so we can enjoy what comes our way as only a father and son can.
Over the last 11 days I have tried to impart some of the wisdom I've learned. I know he will probably make many of the same mistakes I did and have to learn his lessons the hard way. Knowing this though I understand my job is not to protect him from every little thing or to insist he never stretch himself and make a mistake. My job is to be there, support him, pick him up when he falls without saying I told you so, and to watch as he grows into the man he is going to be. He will always be my son and I will always love Boy. I can only hope that in twenty years he will take me on an off road adventure just for the opportunity to spend time with me in order to thank me for helping him find his own road through life.
We travel to Portland at least every other month to visit family and friends. The normal routine is to leave Portland, stop for dinner in Centralia. Centralia has all the usual suspects: Burger King, McDonald's, Denny's… this time however still in Portland and inching up I-5 in afternoon traffic, we decided to jump out of our normal routine. Hooters was just off the next exit and Boy agrees they have the best hot wings. I like Hooters for my own reasons. Remember this is my mid-life crises your reading about.
We ate and we talked man to man . We talked of shoes and ships and sealing-wax of cabbages and kings. We talked of punk bands and all things skateboarding. As Evelyne, our Hooter's girl, came over and chatted us up, the subject turned to our rig. Turns our her boyfriend has a sun fusion yellow FJ Cruiser. From there it was an easy request for a photo opp. Evelyne even grabbed a couple of the other girls who wanted to get in the shot.
We waved good bye to the girls and hustled our way up I-5. Making good time through Centralia, Olympia and Tacoma on through Bremerton and into Poulsbo. As we pulled into the driveway, I got a smile and "Thanks Dad" as he jumped out to see his new sweatshirt that had arrived while we were gone. While it maybe sometime before he goes on another adventure with me, he did say he would like to run down to Portland next time I swing into Metal Tech so he can skate the Newburge Park. Life is all about redefining success and claiming it where you can. This adventure, a huge success.
Kelsi:  Stuck a picture in the mail.  Thanks for taking the time for our quick photo opp.