Day 3 stats
Start: Twin Falls, ID
Finish: Ouray, CO
Miles: 597
Boy and I both agree Denny's rocks. Boy, because he has discovered the fat dripping, artery choking, do these pants make my hips look big breakfast special known as gravy covered chicken fried stake, eggs over-easy, hash browns hot cakes with syrup and chocolate sauce as well as a vanilla milk shake. Yeah he's a growing boy.
I like Denny's for the people. Seems like whatever Denny's we stop at… and Boy wants to stop at them all… people want to chat, hear about our adventure and tell us their tales. I wont lie, I'm a sucker for their biscuits and gravy with hash browns. I'm just growing. That makes 64 miles on the treadmill when I get back.
Between Denny's we drove, we hydrated and we drove some more. Apparently it is orange barrel season and we found all the places the orange barrels were gathering for the rut. We also pickup enough bugs on the windshield that their weight was causing us to get even worse gas mileage.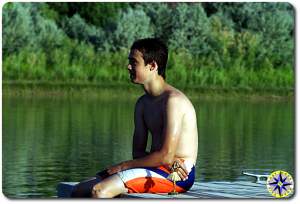 After spending all day in the rig we came to the Green River in Utah. This land mark capped off a debate Boy and I had for the better part of a hundred miles; Examine and explain the merits of swimming in, the Ocean, a lake, a river or a pool. Boy was all over the lake. My vote was for the hot tube, so when we pulled up to the the boat ramp, I let Boy know he was on his own. It was 6:30 p.m. and the thermometer read 94 degrees.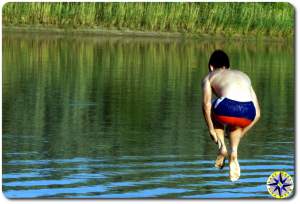 By the time we got back on the road, now 7:45 p.m. we were still 198 miles from our destination. To pass the time Boy played solitaire announcing at each new game "this is the one I'm going to win" along with a card by card play description. He played for hours. He won once. We also put Boys Mac to use. Boy convinced me to buy the movie Wild Hogs the other day so we put it into the laptop and watch four other guys' mid-life crisis. Mine is going so much better.
But we made it to Ouray, sometime after 1:30 a.m. but we made it. The next several days will be filled with trail runs where the pace is easy and the scenery magnificent. But for now it is time to call it a morning, three in the morning to be exact. What I wont endure to get these stories out.
Joyce: There were plenty of other crazy spinster aunts to choose from… it was your patients, understanding and tolerance of others, we want you to pass on.
Barbie: There is a lot of country to love. Hot as hell, dry as a bone, flat and filled with sage brush. What is not to love.