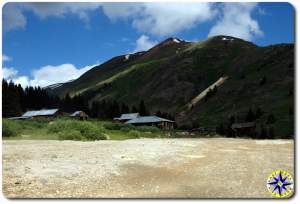 Day 5 stats
Start Ouray, CO.
Finish Ouray, CO.
Miles 68
The off-road adventure started out at 5:30 a.m. getting ready to run California Gulch and Corkscrew Gulch lead by Chris Nelson of Dirt Toy School. Chris was a great trail leader with years of experience on trails. He made everyone feel comfortable with their skill level and pointed out a few of the sites along the way. All the rigs on this run were black or voodoo blue with a great bunch of drivers and passengers. This is the first time we've participated in anything this organized and well run, so it took a few moments to settle in and enjoy the fact that someone else did all the hard work for us. This is something I can get used too.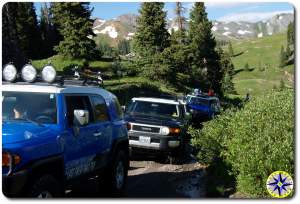 Boy hated it for the first hour… mostly because he was going on 3 hours of sleep and the rig was tossing him around as he tried to sleep as well as having the cliff edges on his side. Once his blood started flowing and we got above tree line, he cracked a smile and started saying things like "that is cool" and "I really like the bumps". Everyone knows I have fun on these trips. I enjoy seeing the country side, meeting new folks, hearing other people's stories, and getting out in the middle of no where.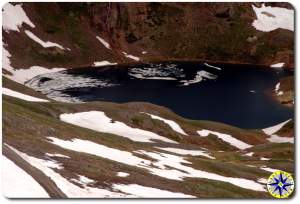 While I enjoy the off-road adventures, what I really love is that Boy came with me. He is 14, he enjoys skating, going to punk shows (we're hoping that's a phase), hanging out with his friends, and being 14 on summer break. He gave it all up to to drive 5,000 miles, run off-road trails at the FJ Summit and hang out with me, his dad. He continues to tell me he is having fun and it sound believable. He is the best boy I have (only boy I have) and I love him for this (of course I'd love him no matter what but this helps).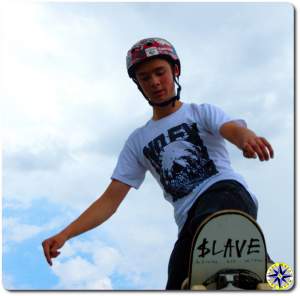 And, after investing 14 years of work into him it is a little late to start over.
The rain broke as we finished our trail run around noon so we made a bee line to the hotel where boy grabbed his board and helmet than off to the skate park. For 20 minutes Boy was in the zone. The little town of Ridgway's skate park has the stuff he likes, bowls and abstract street (like I know what that is).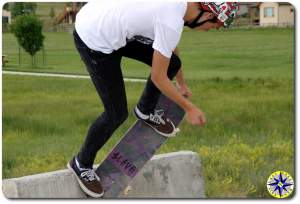 The rain came back and ended the skate session for the day but the clouds cleared up allowing for more swimming in the pool back at the hotel. Boy and I had the pool to ourselves while most of the other guest were out on the later runs.  Yes I got wet. Since we were alone no one went into hysterical blindness when I pealed off my shirt. I swam in my fur coat so you wont be seeing any pictures… I'm sure everyone is thankful for that and we don't want PETA to boycott the website.
Turns out Ouray has a great burger joint. Although the FJ Summit event puts on a dinner spread we decided to spend a little father son time over burgers and ice cream. Walking around town gave Boy the opportunity to repeat over and over and over his favorite quotes from the movie Dumb and Dumber. Now that is a treat you just can't experience at home.
As we made the late night rounds through the vendor tables I stop at the ALL PRO table. As we chatted I looked down and saw John had a stack of posters that were the 4WD Toyota Owner magazine cover with his rock crawling rig and a picture of us from
our Arctic Circle adventure. They let us have a bunch so I'm thinking of wall papering the office with them. I'm sure my wife, Boy's mom, will know what color goes best with magazine cover glossy.
Joyce: Off-line others tell me that your comments make the stories.  If only you could put together a guest writer piece for the website…  Oooh that's right!