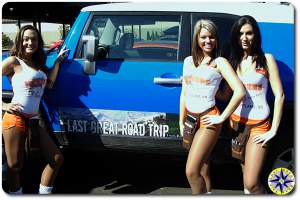 Day 8 stats
Start: Ouray, CO
Finish: Denver, CO
Miles: 333
All good things must come to an end and today the was the conclusion of the 2008 FJ Summit. After a late night with the guys (see FJ Summit Day 7) we slept the morning away. This was the first organized event we have attended and it is significantly different than going out on an off-road adventure on our own. We met a number of great folks and made a few friends we hope to wheel with down the road. I also discovered that wheelers come in all sorts of sizes and shapes showing once again it is easy to celebrate diversity when you find a common ground. Here the common ground was our Toyota FJ Cruisers.
As we left the little town of Ouray , CO. we said good by to our new friends and wished them a safe journey home. We had wanted to introduce Boy to his uncle Benny but Steamboat is the opposite direction, he does not really have an address and our time was running short. Sorry Benny!
The road to Denver CO. is 333 miles long and winds over the mountains and high desert which looks like Idaho, Utah, and Eastern Oregon, lots of cattle ranches and well baked road kill. To pass the time Boy and I continued our discussion about all things punk. We debated the quality of Bremerton bands verses Seattle bands and the venues they play. This of course was in between his reading sessions (that was for his mom's sake).
Rolling into Denver was a bit anticlimactic. We did not even know we had arrived until the GPS announce we were there. Turns out the skate park was only a few miles from where we landed and Boy grabbed his board and was wheels down before we parked. This is a big skate park with a truck load of kids shredding the concrete. Even in the crowd, Boy was easy to spot, he was the kid with the amazing moves and a helmet. I still don't know how anyone can let their kid skate without a helmet. I get 16 year kids who blow off what there parents say but there were dozens of pre-teens out there.
Even though it was still 93 degrees boy skated for a couple of hours before calling it quits and asking about diner. Specifically he said, "I want buffalo wings". This started this morning at Denny's. We rolled in and the line was out the door but Boy loves his Denny's. We walk past the crowd to sign in and got a number of mean looks when the hostess said we could have a table immediately. As we sat down and looked and menu Boy announced he would have is usual chicken fried steak hash browns, eggs over easy and pancakes with chocolate sauce now and the wings would have to wait until dinner time.
After more skating, a lot more, it was time to  for diner.  Like any good dad I wanted to fulfill his chicken wing wish so I punched in "Hooters" on the GPS and in no time we were sitting at the bar looking at the … menu. Turns out he had to think about what he wanted but settled on the wings… It was too easy so I'm not going with the obvious breast joke. We dug into the plate of 50 buffalo wings. Boy smiled and said "these are really good even better than Apple Bees. Its a guy thing. Like the blue bunny ice cream turns out his eyes were bigger than his stomach and the wings kick his ass, but we know what is for breakfast.
As my wife will tell you I have good parking Karma. Boy says I can add hotel room Karma to that list. I guess all that clean living and love for the road ensures I can get a room and the first hotel we see. That good Karma translated into a room with a all the things Boy wants, Internet, a pool and a bed with four pillows. As I finish this post Boy is settling into bed after brushing his teeth (that was for his mother) and trying to decide which skate park we will hit in the morning before we roll for Twin Fall, ID.