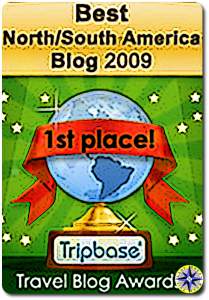 First of all I would like to thank the academy, my parents, my friends, all the readers, the guy who cuts my hair, the kid down the street who mows the lawn, our mailman, my favorite sister-in-law, Hula Betty and all the people who work so hard behind the scenes to make this web site possible….
Ok, so we are not curing cancer here and until someone does end bigotry and hatred in the world this might not be all that news worthy…  But over at Trip Base they picked the top blogs and sure enough Last Great Road Trip was a finalist…  here is the inside scope.  Here is the write up:
————-
The award is a mark of prestige which is only afforded to the blogs that score highly when our judges review them for selection. The award is a sign that a blog succeeds greatly at what it does and surpasses all expectations, thereby indicating it as a veritable bastion of quality and information.
Americas Awards Category
The Americas (both North and South) are physically large places and so too is the blogosphere that the best America blogs inhabit, so our judges had their work cut out for them in selecting the winners in this category. These blogs have been chosen for the overall combination of style and substance that interact in such a way so as to each create a unique blog that readers will want to return to time and time again. Judges looked for content that was both interesting and informative, but also noted if the blogger could back up written content with visual media such as maps of the Americas or of their respective travel routes and destinations, as well as videos and pictures to accompany their travel stories or information.
Award Recipients 2009
1st http://someone else
2nd http://someone else not us
3rd http://someone else not lastgreatroadtrip.com
4th http://other people's blog not ours
some more stuff that is not us and than
Finalist http://www.lastgreatroadtrip.com/
Sure we didn't win…  but just being nominated is what is important right?  Just like taking your sister to the prom or kissing your grandma good night…  it's just not the same as winner…  We'll be working on our competitiveness issues in therapy next week.