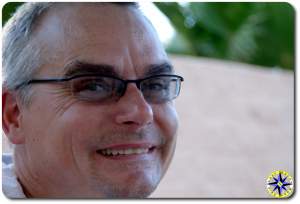 Today was the day the gang (or at least most of them) came into town.
Bernd is joining the group from Portland along with his son.  I met Bernd a couple of years back in Ouray, Co. at the second annual FJ Summit.  Since then I've had a few opportunities to run trails with him including a night 4×4 trails at Browns Camp.  I always like letting Bernd go first.  I know he will pick the hardest, most gnarly line to try out…  And he'll make it…  I than look at all the rest and pick the easy one.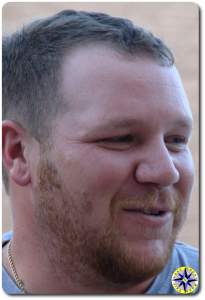 Until today I'd never met Nick, but he and I know each other from the forums.  Nick is a good'ol boy out of south Texas and he doesn't seem to mind that I have a bit of Okie in me.  After meeting Nick, it turns out he is just as nice in person as he is on the forums.  Nick's wheeling experience goes back generations starting with his grandfather and an old Willys that came out of the war.  Nick shipped his rig over and flew in…  but there was still a little work to be done on his rig today including the install of new skids and swapping out his doors.  Of course for a bunch of guys hanging out on a Saturday before a big off road adventure on the Rubicon…  this was just what we needed.  This and a some adult beverages.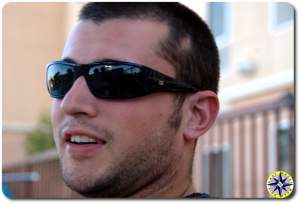 Travis (LT) is definitely the cool young Turk of the group. You'll never meet a genuinely nicer guy…  and he's single girls.  As the other half of Metal Tech, LT runs the production floor and is the guy who has given me an appreciation of some (I did say some) death metal.  I figure, if you're going to wheel a trail that you could blow apart something on your rig, than LT is the guy to have around to fix it.  It was LT who first ask if I would be interested in joining them on the Rubicon Trail and I still can't believe I'm here with him.  LT usually wheels his built FJ 40, but for this trip he's running in the FJ80 as support, just in case one of us need a little pull to get over some obstacle.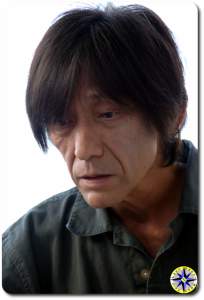 Yoshi is our long distance travel winner for this off road adventure.  Yoshi and his family flew in from Japan for a chance to be on the Rubicon Trail.  Turns out he is a freelance photo journalist and editor on assignment for a Japanese 4×4 magazine.  He has traveled to the states write about our off road adventure on the Rubicon Trail and see first hand some of the wheeling capabilities of the Toyota FJ Cruisers.  Yoshi and his family will be riding in the FJ80 with LT.  I have already picked up a few tips on photo shoots just watching him work and can't wait to see him work on the trail.
Our host Mark has probably forgotten more about Toyota Land Cruisers and wheeling than I will ever know.  Anyone who reads this website knows what a great guy I think Mark is…  He always knows what to say to put you at ease whether you're 8 or 48, he just knows how to connect with people.
It says a lot about a guy who is willing to go through all the trouble it takes to put a trip like this together and do it because he wants everyone to enjoy the sport of off road wheeling as much as he does.
One driver more will be joining the group in the morning at the trail head and I'll provide proper introductions than.
As I finish repacking the cameras, video equipment and gear for the early morning start, I can't help but think how lucky I am to have an opportunity like this to wheel with some of the nicest folks, on one of the most famous 4×4 trails the world.  If I pay attention, keep my mouth shut, watch and listen there is a good chance I'll learn something and maybe, just maybe, escape it without too much carnage.  I really must be living right.