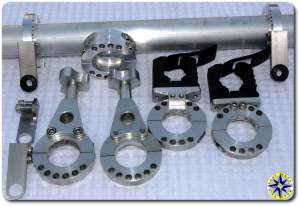 Long off-road adventures are all about having the stuff you need to get unstuck, stay safe and remain comfortable.  Some of the most import safety equipment on a 4×4 adventure, a shovel and Hi-lift jack, or fire extinguisher are also the most cumbersome and difficult to store.  And like a teenager reaching for the Clearasil on prom night, you want immediate access to this stuff when you need it.
Solving the storage problem, Fourtreks has come up with an versatile solution for  easily mounting much of your off-road equipment in places that keep it out of the way and easily accessible.  By taking advantage of the tubing on most 4×4 rigs (bumpers, roof racks, roll cages…) Fourtreks has developed a versatile modular system of tube clamp rings and accessory mounts that attach to their clamp rings holding all sorts of off-road equipment.
Made from T-6061 aluminum, the system components are light weight yet very strong.  The different accessory mounts are designed to hold such things as:
Hi-lift jack
Shovel
Axe
Fire Extinguisher
CO2 tank
Jerry can
Maglite flashlight
GPS
… you get the idea
Keeping in mind that one size does not fill all, the clamp rings are available for 1″, 1-1/8″, 1-1/4″, 1-1/2", 1-5/8", 1-3/4", 1-7/8", 2", 2-1/4" and 2-3/8″ diameter tubing. All of the accessory mounts bolt to any of the clamp rings allowing you to mix and match storage locations for quick access to all your important 4×4 accessories.
Using Fourtreks mounts, we've been storing our Hi-lift jack and shovel on the roof for over three years now.  Knowing these items are safely stored out of the way and easily available has allowed us to explore the roads less traveled with piece of mind.