The shortest distance between two points is a straight line… And yes for all you math majors in the crowd I know a line is straight by definition and a straight line is redundant but that is just how the saying goes.
Late last night around the fire we came up with the idea of a fancy sit down breakfast… Eggs, bacon, english muffins, patties of foil wrapped butter, jam in little single serving tubs, OJ in glasses, endless pots of hot coffee, real dishes,  silverware and waitresses who magically appear when your water glass is empty. Half a dozen rigs descended on Whistlin' Jack lodge.  It wasn't a pretty sight. Sure we'd washed off the top layer of dirt the night before, but this was still a pretty ragtag looking group.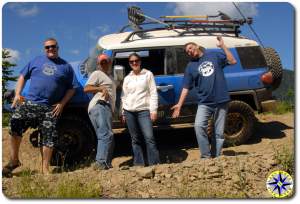 Over the sound of clinking glasses, knocking dishes and silverware, ten different conversations were going on at once. Couples telling the stories about how they met, their pet names for each other like "funny retard", who was looking for a new job and what was planned for the rest of the summer.  Turns out this was the lodge where Curtis and Maryalice were married at not that long ago so we thought about honoring them with a moment of silence… not that we did… but we thought about it.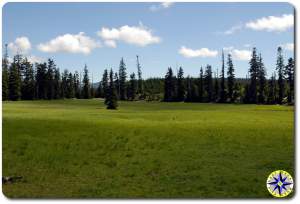 Eventually the conversation turned to the drive home… Some would be heading east, a few west and a couple south. For the Seattle bound crew the idea was pretty simple… Rather than head around the mountain on highway 410, lets go straight over taking the forest roads back to Greenwater.  Now all we had to do was pay the tab, head back to camp, pack up and go.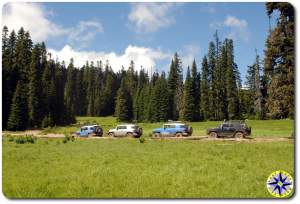 Have you ever noticed how long goodbyes take when you are having a good time with great people. No one really wanted to go, but home was calling and sooner or later the realities of life would pull us all back in, leaving this weekend as only a fond memory in the minds of all. But we still had the drive over the mountain to look forward to and with four rigs we would make good time, see some beautiful views and stay off the blacktop a little longer.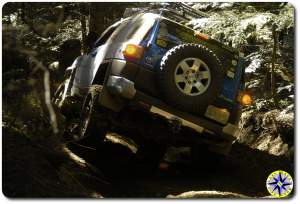 We headed out cruising west through the woods kicking up dust and making good time as we turned onto Forest Road-1913.  And than a little trail sign caught our eye… The Naches Wagon Trail is one of the historic trails carved out of the hillside by the pioneers as they dragged their wagons over the mountains looking for a better life in the Pacific Northwest.   Abandon by the wagon train bosses when easier passes were found, today the historic trail is kept open as a 4×4 trail. Opened again to seasonal traffic the day before, this was a sign from the off-road adventure trail gods… so left it is.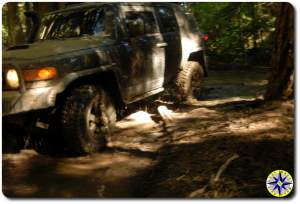 Sitting in a rig with padded seats, independent suspension,12 inches of flex, 135 horses, loads of torque and you're still digging your fingers into the steering wheel as you climb long steep hills of loose rock gives you only the slightest idea of what the early pioneers must have endured to drag their wagons up and down the trail. Although marked as an "Easy" section… the trail is definitely aimed at the motor cycles and narrower rigs as we squeezed by the scarred trees.  There were times we'd of thought it was a wide hiking trail if not for the signs.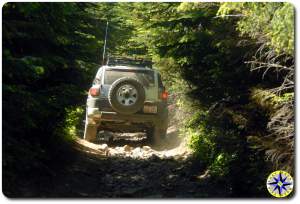 Even though the trail had just opened the day before, traffic was light with mostly the two wheeled guys working around us as we motored our way through the woods. Reaching the pass, the trail opens up to what can only be described as god's country. Wide open lush green meadows that must have inspired the pioneers to push on to the valleys below in the land of milk and honey. We stopped to take it all in, pee.. again… and give the blood a chance to flow back into our white knuckles.
The maps say "More Difficult Steep Down Hill" ahead. What the maps don't say is steep down hill with a giant gnarly stump sticking out of the hill side, its sole purpose to inflict damage on body panels that pass. The paint, wood scars and broken glass give testimonial to the stumps ability to inflict pain. Sensibility had been thrown out long ago, stories remained to be told, Hula Betty was dancing on the dash and there were still one or two tricks to teach these old dogs. Hey this is the historic Naches Wagon Trail and we ain't had enough fun yet.  We drove on.
At this point I need to bow and pay honor to Brian. I only thanked him a million times but it still feels insufficient. We looked at the stump sticking out, the dip in the trail that throws you into the stump, the up hill slide of loose dirt that throws you into the stump and small foot print size rock that may hold a tire and the fact that as best we could tell, gravity still worked… in the stumps favor. Think camel and eye of the needle… Putting our faith and mental well being in Brian's hands we followed his spotting directions without question.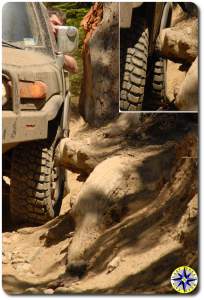 Get as close to the stump as you can… By close I mean fold your mirror in, push the driver's side front tire sidewall into the stump, INCH your way forward. Listen for the pop as your front tire passes by the stump and regains its shape.   At the moment your tire clears the stump you will have just enough room to pass a wisp of paper between your door panel and the stump… HOWEVER, if you're on the line, your passenger's side front tire will drop ever so slightly.  Now turn into the stump… yes into the stump and hope your rig flexes ever so slightly away as you keep inching forward and pass your door and quarter panel by before you rub your rear tire against the stump and pop around… Thank you Brian, Thank you… thank you… thank you! Brian managed to work all the rigs pass unscathed… Even ours with it's extra width front and rear.
There is a certain euphoria that takes over after successfully negotiating an obstacle that appeared impassable. Sure the rest of the trail was filled with branches that added some pin striping to the rig. But nothing that wouldn't buff out and hell… It adds character.   At least all the sheet metal was straight. We continued to move down the "Steep Hill" testing the rig's flex and working through a couple more tight squeezes… But nothing like that stump… Finally we popped out onto Forest Road 70 where we had played only weeks before in the snow. We managed to complete the 25 mile run from camp in just under five hours with four rigs and not a single dent or ding… knock on wood. This deserved a celebration…  And we still ain't had enough fun yet!
See other photos of our Naches Wagon Trail off-road adventure on Flickr.