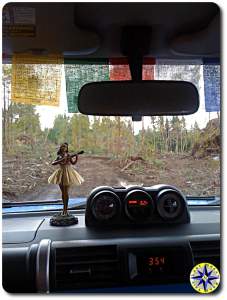 Greetings from the road less traveled.  Another Christmas quickly approaches the Last Great Road Trip clan. This will be our most recent Christmas yet!
We made it through another year without wrecking the blue bunny, despite our best off-road adventure efforts. Hula Betty continues to live the life of an iconic dashboard bobble doll, wiggling her way down the road under a new set of prayer flags. Despite her new found Zen state, she still gets mad when we leave the driver's seat up.
The guys explored the hills, deserts and beaches of Baja Mexico. While the peso made delicious meals cheap in Mexico, the rocks, dirt, cactus and endless whoops cost us a pair of rear shocks. This was our navigator's introduction to wheeling. Although we're pretty sure the seat got a little soiled when we popped his off-road cherry on the first washed out section, he still swears it was the best time since the old days of our Yellowstone road trips.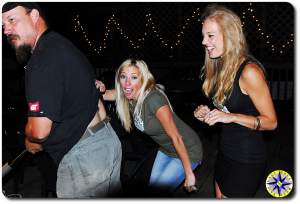 What the flight out to the 2011 FJ Summit lacked in entertainment value, the Metal Tech party made up for in reunions with old friends and even a few new ones. Wheeling the orange Metal Tech rig around Ouray gave us a big case of suspension envy that now has a growing pile of new parts showing up in their shop with our name all over em.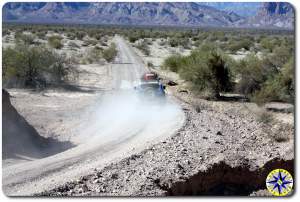 Who can forget the adventure that never was… The WABDR showed us why you wait until summer is in full swing if you don't want to spend the day digging rigs out of the slushy snow. But the huckleberry pie, shakes and burgers in Trout Lake brought us back for a second try. If at first you don't succeed wheel, wheel again. Take two on the WABDR found us completing two 200 miles through some of the most beautiful and remote areas of Washington.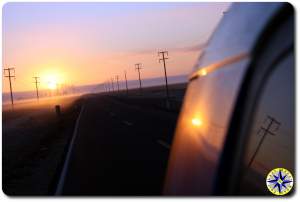 By the time Black Friday came around we were back at it in the Tillamook Forest with the NWFJCC. The trails may not have been as dangerous as shopping the pre-dawn Walmart sale for the last pair of retro Air Jordans, the friends, weather and trail conditions made it a great day to behind the wheel.
In our on-line adventures, our friend count on Facebook and Youtube continues to grow. We still can't believe anyone would find all our adventures worthy of following but we're as excited as a convention of shoe salesmen at the site of a Vegas stripper pole every time someone adds us on-line.
We are thankful for another great year of off-road adventures and the support our friends and sponsors have given us.  Without folks like Mark and LT at Metal Tech, Beau Jaramillo over at Amsoil, and the guys from Discount Tires much of this would not be possible.
Yes Virginia there is a Blue Bunny and Hula Betty does exists. This will be the best holiday season of 2011 and as the snow falls, Last Great Road Trip wishes you and your family a happy holiday and great 2012.