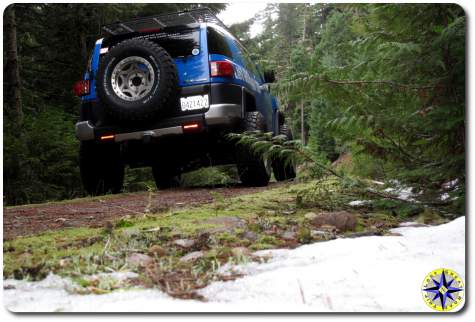 When I was young I would follow the Clackamas River up into the mountains looking for a quiet place to wet a fly and spend a night under the stars.  One of my favorite areas was around the Ripplebrook Ranger Station.  Once again I find myself in Portland with my FJ Cruiser,  a free Saturday  and a desire to head back up the river to explore my past.
Late fall and the traffic is sparse as the river narrows and I close in on the ranger station.  I pass familiar camp names like Roaring River, Rainbow River and Alder Flats.  Not much has changed in the sparse camp sites.  Their only amenities  are a rustic hand pump for potable water, heavy wooden picnic tables, fire rings  and a couple of outhouses.  What they lack in creature comforts they more than make up for in natural surroundings.
Even 30 years later there is still room to explore up here.  The endless unpaved backroads go off into the hills, climbing over passes and dropping down into valleys filled with tumbling streams and small shimmering size lakes.   Views of Mount Hood and the sound of moving water seem to be around every turn.  It's the water that draws me back here.  The sound of moving water causes a cascading flood of wonderful memories: Fly fishing for small, native Cutthroat and Rainbow Trout, camping along a babbling brook, quiet nights alone by a fire, exploring unnamed forest trails…  The water reminds me that life is best experienced by letting it wash over you and drinking it in fully rather than battling the currents in a rush to get out of its way.
As darkness overtakes the day, I find myself sitting next to a small lakeside fire, listening to the forest as the flames push back the high mountain chill.  I'll head back down into the hustle and bustle of PDX soon but for now I'm content to appreciate one of the places that taught me the value of looking beyond the next bend in the road.