We have started the ball rolling for a number of the mods we will need in order to take the FJ Cruiser on our off-rad adventure to the Arctic Circle. Some of these mods are simple; others involve major components. To record the humble beginning we started with, say the best stock off-road rig available today, we've captured a few quick shots of our stock rig in action.
One mod you will see already in place is the new addition to the factory roof rack. The FJ Cruiser Adventure Rack has been installed. I know the factory roof rack catches a lot of flack, but like it. The look works for me. What I did not like was all that wasted space up front. The new wilderness rack sits in the front and creates a nice four-inch deep basket. Having these two basket areas also helps keep everything neat and tidy while allowing access front and back. I only need to focus on digging through or securing half the load at a time.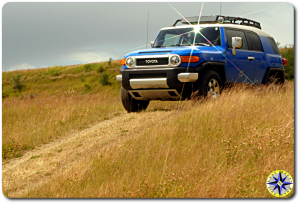 While this little set of two tracks is nothing to write home about, in fact it is only six blocks away from home, it did give us a change to validate that all the nuts and bolts were tightened as well as test out the low gears and rear locker. The stock clearance is good enough to go up and down these little 20-degree dirt terraces but we'll be adding to it soon.
Toyota did a nice job with their rig making it off-road capable right out of the box. Sure they made compromises to sell to a wider audience but it still retains its trail worthiness and Land Cruiser heritage. Part of our preparation is to ensure the rig is as self-sufficient as possible since more often then not the nearest civilization will be a couple of hundred miles away as we will travel down washboard gravel and mountain pass two tracks heading to the Arctic Ocean. Of course we'll be carrying a couple of tires,
fuel and the usual stuff to get unstuck. Even though we are not going rock-crawling we will be getting off the beaten path and don't want to rely on someone else coming by for help.
Soon we'll post up the rig with its mods so you can follow the changes. We'll also let you know if the mods perform as we hope and tell you weather we think they are worth the trouble, at least from our point-of-view. You can decide if they are right for you.