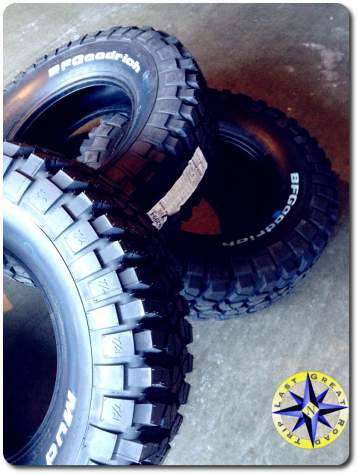 Our off-road adventures take us to places where AAA is not an option.  On our adventures we drive our FJ Cruiser over dirt, boulders and rocks that eat tires for breakfast.  In addition we usually have to cover thousands of miles of asphalt to find the end of the road.  Well built, tough as nails tires are not an luxury, they are a necessity.
A few days back we received a set of BFGoodrich Mud-Terrain T/A KM2 tires to test out on our off-road adventures.  The KM2 is BFGoodrich's second generation of their toughest "E" rated off-road tire.  The KM2 protects against punctures with three layers of polyester and two more belts of steel.  In addition BFGoodrich wraps the KM2 with three ply sidewall construction to resist cuts and bruises in order to take the edge off of rocks and other off-road hazards.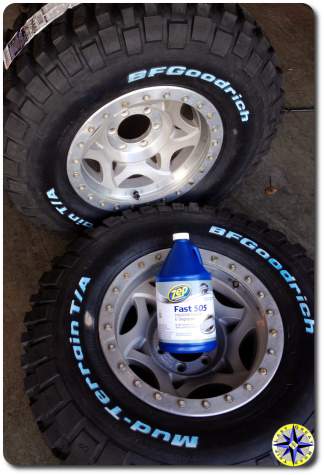 We chose to mount the 285x75x17 KM2 tires on our Walker Evens beadlock wheels and balance the mud tires with Dyna Beads.  The first thing we noticed is that these tires look good on our Toyota FJ Cruiser.  Aggressive tread blocks and 34″ stance, these BFGoodrich KM2 tires seem to weep testosterone.
In order to get a good first impression of these BFGoodrich tires we decided to leave the state and head over to Browns Camp Off-Highway-Vehicle (OHV) area in Oregon's Tillamook Forest.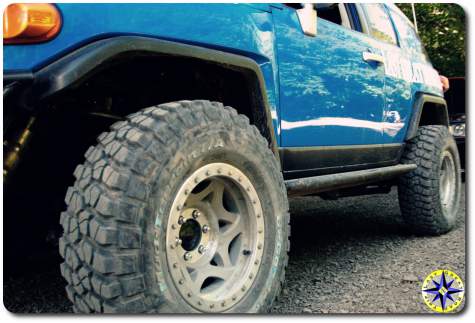 Mud tires are notoriously loud on the highway however BFGoodrich's KM2 Mud tires were surprisingly quiet and smooth as we motored the 300 miles of highway down to Browns Camp.  The tires provided good road feel as we navigated the twisty asphalt that leads through the foot hills of the coastal range to the trail head.
At the trail head we aired down allowing the tires to soften the bumps and ruts of the trails.  On the dirt and gravel we easily made our way as the KM2 Mud tires dug in and carried us over the 4×4 trails.
When it came to the tougher rock crawling sections of firebreak 5 we discovered that we had left way too much air in the tires.  At 28psi the tires could not conform and grab the boulder's edges.  The smart thing to do would have been to bleed off 10 psi and let the tires work for us…  that would have been the smart thing to do.  We kept the tires at 28 psi, worked back and forth through the steep boulder infested hill and climbed to the top.
For this initial impression we drove 600 miles of highway and spent a full day driving several levels of trails (easy, moderate and difficult, we stayed away from the extreme and sever rated trails…  after all we still had to drive home).  Our first impression is that the KM2 provides solid performance on and off-road.  The KM2s are well behaved on the road and deliver good footing off-road (next time we'll give firebreak 5 a try with 18 psi). Over the next few months we'll count on these tires to take us on several more off-road adventures and we will let you know how they perform.