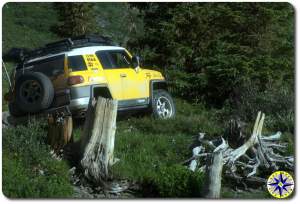 If you read this website and well you must or you wouldn't be here….  You know I believe the Toyota FJ Cruiser is a great rig for the type of off-road adventures we do.  We take the rig on off-road adventures, across Alaska tundra, through Baja desert, over tough Rubicon 4×4 trails and explore just about any two track that looks interesting. And while I will tell you it is a great rig, who am I!
Well don't take my word on it, turns out we have some other opinions to share and it is not the thousands of other FJ Cruiser owners… We're all biased.  No, this best rating comes from US News & World Report.  They just came out with their list of best truck, cars, hybrids, and toasters.  Ok I'm kidding about the toasters, I think the Hamilton Beach True Toaster is the best.  In the category of Midsize Crossovers/SUVs US News & World Reports picked the Toyota FJ Cruiser number one.  In their words "Despite the fact that it's a bona fide truck-based SUV, the Toyota FJ Cruiser provides a surprisingly comfortable highway ride. Add to that a cool, retro-looking exterior and its ability to double as a rugged off-roader and daily driver, and you've got a good value — even if fuel economy isn't the greatest."  And the Toyota FJ Cruiser's quirky looks, it gets a 9.2 (excellent) score for it's Exterior from US News & World Reports.
If that is not enough, The Washington Times reports on the Insurance Institute for Highway Safety, finds that the FJ Cruiser earned a Good ratings and has become a Top Safety Pick.  This rating is of course on the new 2009 rig but you check Insurance Institute for Highway Safety web site for Top Safety Picks from earlier years.  I'll save you the click through…  2007-2009 received a Good rating.  And for these guys a rating of Good, is as good as it gets.  While your looking around on the Insurance Institute's site check out all the cool info on safety, crash test and status reports.