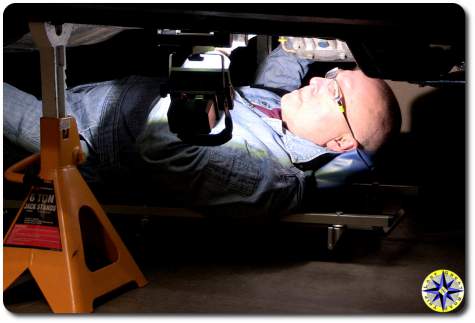 Around the shop or in camp, light is always at a premium.  We always seem to have to work on parts that are tucked into a dark corner of the truck or start prepping camp meals as the sun is dipping below the horizon.  Until now the solution was head lamps, flashlights or old fashion trouble light.  These light sources are good but they don't always provide enough light or put it where you want it.
Enter the FLOOD-IT pro LED rechargeable light.  This small but powerful free standing flood light has found it's way into our kit.  So what makes it better than all the other 10w LED lights out there?
Compact free standing base with a handle that is easy to grab.
Magnetic feet.  Set the light on the ground, stick it to the hood, attach it to the truck frame.  This work light makes it easy to stage the unit so it illuminates where you need.
Cordless and rechargeable, lasting up to four hours. The work light comes with an AC adapter and a car charger making it easy to recharge in the shop or while driving to the next camp.
IP65 water and dust protection with a wide 120 degree beam spread.
For us its the compact size, rechargeablility and magnetic feet that make this work light a winner.  When on the trail the light sits magneticly tight on the rear floor where we can quickly grab it. In camp we stick it high on the truck and point the light right where we need it most, at the camp kitchen, and cooler.
The FLOOD-IT pro LED light is now a part of our off-road kit and a favorite around the shop.  Check out Red Kitty Industries for this and other rechargeable work lights.