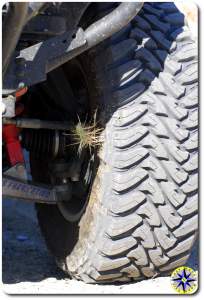 30,000 miles later we can now give our long-term report on the rubber that took us on our off-road adventure to the Arctic Ocean, Telluride, Inuvik and around town.  Toyo's Open Country M/T® are an aggressive mud traction radial.  Running 295x70x17 tires on our rig provides sure footed traction and an additional inch of lift over the stock 265s.  These tires fill the wheel well with massively lugged rubber just weeping testosterone.
But the Open Country M/T® does more than just butch up your rig.  According to Toyo "the Open Country M/T® is a mud and snow rated mud terrain radial tire that features hook-shaped tread blocks, scalloped shoulder blocks and a high performance cap of ply construction for excellent off road traction."  With 3-ply polyester casting, two spiral wound nylon cap plies and two steel belts, this tire is designed for long life and more protection than a three pack of Trojans stuffed into the wallet of a sixteen year boy.
We found our Open County M/T®  tires to be very protective as we bombed down roads where the occasional granite dagger reached out for our sidewalls.  With their hook-shaped blocks they performed well on slippery hills, and gripped the rocks they were asked to climb.  Feed back from others who have used the Open Country M/T® confirms, their compounds grip the obstacles, feeling "stickier" than other tires.  Even with 30k miles on them, after the occasional rotation, our set still have most of their tread life left.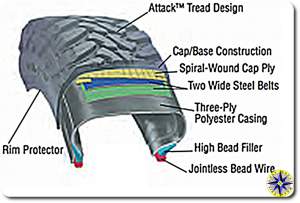 And while mud tires are known to be noisy on the road we found Toyo's claim of being the "quietest mud terrain tires on the market" to be true.  No they are not silent, but even with the windows down they don't have that typical whirl as you drive down the tarmac.
All that rubber, polyester and steel adds weight…  serious weight.  Each one of our tires tips the scale at just under 75 lbs.  Add a rear spare and second on the roof and you can use an egg timer to measure the time between fuel stops.
In addition to the weight the sheer size of the 295 tire has caused some rubbing on the upper arm controller.  Without wheel offsets or after market UCAs, a 285 is probably the way to go.  You can find all the sizes available in the Toyo Open Country mud tire spec sheet.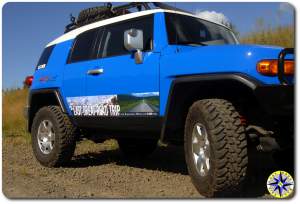 Overall the  Open Country M/T® has  been a good choice for our style of wheeling, overland adventures and daily driving. And although they are heavy and priced higher than most (about $300 each MSP), we would do it again. But than again we are kind of nuts about having a tire we can count on when we are hundreds of miles from no where.
Update: We've had two sets of these Toyo Open Country M/T tires.  They are indestructible and we relied on them for our Baja off-road adventure.  Our one complaint is their weight.  Based on simple around town and highway testing, these heavy M/T's cost about a mile or two per gallon of fuel when compared to all terrains such as the Falken Rocky Mountain ATS.