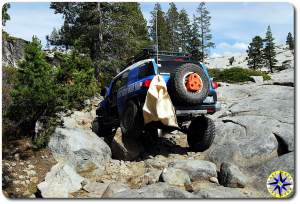 Metal Tech 4×4 is known for its leadership in off-road protection, suspension performance and 4-wheeling innovation.  We thought we'd look at their recent suspension contribution.
The first big advancement in long travel for the Toyota FJ Cruiser  and 4-Runner came  in 2008 from Total Chaos taking the front end from eight inches to 12 inches of travel with their front 2″ long travel kit.  This step forward provided a big improvement to the front IFS but left the rear-end unattended.
Realizing the need for balance in off-road suspension performance, Metal Tech 4×4 introduced their rear long travel and has created the next evolution in FJ Cruiser and 4-Runner suspension. Eleven and half inches of rear shock travel translating into 27 inches of wheel travel to help maintain four points of contact with the ground as you motor over all sorts of terrain.
To achieve this impressive range of motion, Metal Tech's long travel kit includes offset lower links that eliminate binding, bump stop relocaters, longer stainless break-lines and taller two stage progressive springs.  Metal Tech has teamed with Icon to create longer rear shocks specifically designed to take advantage of the new geometry.
The Metal Tech long travel kit offers two progressive spring options: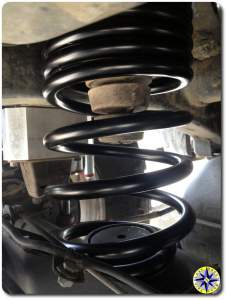 Standard long travel springs have a free standing 19 1/4″ spring height that maintains a 2″ lift in the rear.  The bottom half the coil is rated at 250lbs of spring rate and the upper portion is at 105lbs of spring rate.
Expedition rated long travel springs have 3″ of rear lift. The bottom half of the coil is rated at 300lbs of spring rate and the upper portion is rated at 140lbs of spring rate to maintain ride height with the heavier loads associated with overland expeditions.
Using a progressive spring combination allows the spring to stay in it's compressed position at ride height and expand out to it's full free height on down travel keeping the wheels in contact with the ground.
But how does all this spring rating translate into seat of the pants performance? We tested both Metal Tech spring types and found some very interesting results.
Full disclosure here: we run the Metal Tech 3-link setup with their lower links, springs, bump stops, extended bake line and Sway-A-Way 2 1/2″, remote reserve, 12″ travel, triple by-pass shocks on our setup.  Travel numbers are for a 4-link set up and some of the test were using Metal Tech's FJC running a 4-link set up and their long travel kit.  Both springs were tested on our rig to provide same/same comparison over a longer duration to see the difference in ride comfort, sag and spring response. We also left the bypass shocks at the same setting for all the spring tests.
First we tested the standard springs on some forest roads and local trails which offer a number of different levels of challenge.  Driving on highway, around town or on wash board gravel the standard long travel springs provide an amazingly comfortable ride.  While the heavier rated bottom half of the coil keeps a level ride height, the softer upper portion gives and takes the impacts of pot holes, cracks and bumps in the road.  On the 4×4 trails the springs open up nicely, allowing the rear wheels to travel their full arc keeping the rig steady as you crawl over large rocks or drop a wheel into a hole.  The three wheeled wave so familiar to FJC drivers who play on the bigger obstacles is a thing of the past (within reason).  Carrying lighter loads on the local logging roads (a few spare parts. tools and camp gear) the springs provide the stability needed to move quickly down half dirt, half gravel twisty terrain and absorb all the bumps and ruts allowing for solid control and comfort.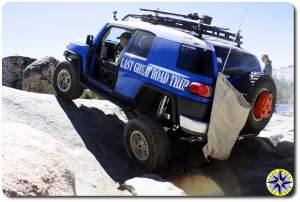 The expedition long travel springs are new…  in fact we were the first to grab a pair off the rack and test them.  These springs were designed to support the heavier loads of overland expeditions without sagging and giving up ride height (translate ride height into upward wheel travel).  In order to run the new expedition long travel springs through their paces we piled all the gear needed to be self sufficient for six days on the famed Rubicon Trail… and it was a lot of gear. On the big Rubicon rocks of Little Sluice, Big Sluice and Cadillac Hill the expedition springs carried the weight and still granted the rear axle full travel along the length of its arc allowing the wheels to remain in contact with the granite as we crawled up and over obstacles.  On all the obstacles the springs kept the rig stable, never feeling sloppy or sagging under the weight of all the camping gear, food, tools, spare parts, camera gear and gallons of water and fuel.
Of course you have to give up something with these heavier springs right…  These springs are designed to ride level with a load so empty you will notice your FJC has a bit of rake like it did when it came off the show room floor. Driving around town with the expedition springs and an empty rig reminds you you're a driving a truck. Not harsh, looking for a kidney belt, rattle your teeth loose ride but not the supple smooth ride of the Metal Tech standard long travel springs either.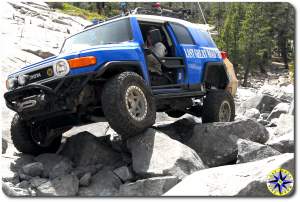 When we first upgraded the front end to the Total Chaos long travel we had one complaint…  the rear end just could not keep up as we took our rig through the Baja, Rubicon (the first time back in 09) and the backcountry discovery routes of Utah and Washington.  Now with the Metal Tech long travel and their choice of springs we have the balance we've been looking for as we travel the road less traveled.
If your looking for an upgrade that will provide you with gobs of rear travel and you want to be able to carry all the gear you need to be self sufficient on long expedition in a Toyota 4-Runner or FJ Cruiser then give Metal Tech 4×4 a call to talk about their six different rear long travel kit options.