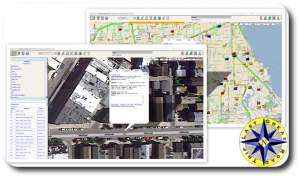 This off-road adventure website was started five years ago for one reason… Let my mother know dad was ok and to track where he was on our original Arctic Ocean Adventure. A lot has changed since then and our off-road adventures have taken us through some extreme conditions and to amazing locations. But one thing hasn't changed, when we take off, mom wants to know we're safe and where the hell we are.
Recently the guys at Track Your Truck (www.trackyourtruck.com) asked us to give their tracking system a try.  These guys have satellite and cellular based real time GPS vehicle tracking.  Why would you need one of these?  Well how about dispatchers looking to keep their delivery trucks moving efficiently, helping lost drivers find an address and alerting customers for accurate arrival/departure time predictions.  Our personal favorite (and probably ever teenager's father's favorite feature) covert tracking of the car you lent to your teenager.  Or just to let those who worry about you know where you are.
We received the cellular based Coyote unit which provides
real-time vehicle location, speed and heading 24/7
2-minute GPS tracking updates
Internal antennas and battery backup
Starter Kill—Vehicle only allowed to operate on predefined schedule
Accelerometer for excessive acceleration, deceleration events
The unit can be plugged into your rig's power socket (cigarette lighter for those who remember when cars came with ashtrays) or hard wired in behind the dash.  We unpacked the unit, plugged it into the power socket and we were done.  That has to be the easiest install we've ever done.  We even moved it between vehicles a time or two in just seconds (I have a teenage daughter who asked to borrow one of our rigs for a weekend).
Once the unit is installed you can keep track of your fleet using Track Your Truck's on-line software, NetTrack.  Log-in and NetTrack lets you see in real time, the locations of all your vehicles against Google Maps as well as review several spreadsheet based reports with tons of data including location points, dates, times, headings and speed.  You can also replay your vehicles' routes using Google Maps or Google Earth.
All this functionality comes with a price.  The units start at $199 along with a monthly fee beginning at $19.99 for coverage and NetTrack access.  If you're a fleet manager looking for an easy solution that allows you to track your vehicles and optimize their use in transit, Track Your Truck is worth a look.  The unit and software definitely performed well.
For our simpler needs, this technology is not the right match for us.  We're not going to be taking advantage of real time traffic maps overlaid on our rigs location to optimize delivery times or looking to streamline routes across multiple vehicles.  And while the cellular based unit will cover our road trips, we'd need to bump up to the satellite coverage for off-road adventures.  And all that data in NetTrack is designed to be private so publicly publishing real time location goes against the grain.   However, speaking as a father that covert tracking and kill switch scheduling capability has some real appeal.