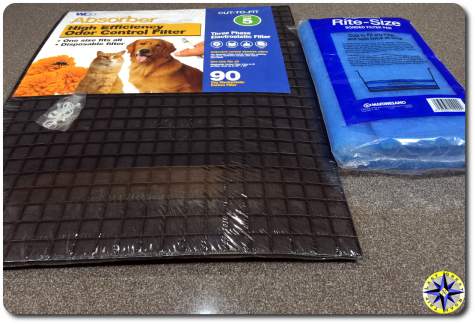 We've shown you how to replace your Toyota FJ Cruiser's engine and cabin air filter. Now we want to show you how to save money the next time you do.
Toyota OEM cabin filters (and knockoffs) cost between $15 and $20 on the Internet depending on the brand, shipping and who you purchase from. You can make your own for as low as $2.00? It's crazy but true, you can make your own cabin air filter in minutes with easily available materials.
Stop by the pet store and pick up aquarium filter material, the polyester cut to fit stuff that runs around $6.00 a sheet. You will get a couple of filters from a single package of aquarium filter material. We like using a furnace filter called "Web Absorber". This statically charged material includes a layer of carbon covered fiber that absorbs odors. While the Absorber will cost between $10 and $20, you will get four of five cabin air filters from one 20″x25″ furnace filter.
Lay out the material on a flat surface you can cut on.  Using your old OEM cabin filter as a template, trace it out with a Sharpy onto your filter material and then cut out along your traced lines.
To assemble it, I like to start by laying a dryer sheet into the cabin filter holder. This will add a fresh scent to the air. On top of the dryer sheet lay in the filter material you cut out. If you sized your material right it will fit snugly into filter holder on all sides.  Be sure to tuck the filter material under the top tabs of the filter holder.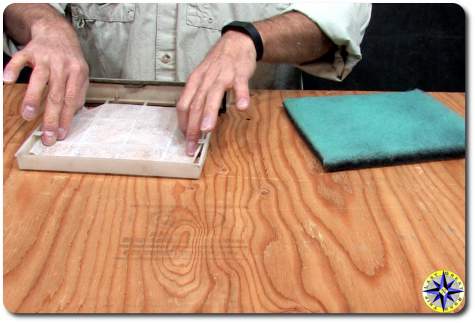 That is all there is too it.  Slide your cabin filter holder back into place and you're done.  You should have plenty of material left over for the next time you need to replace you cabin air filter.