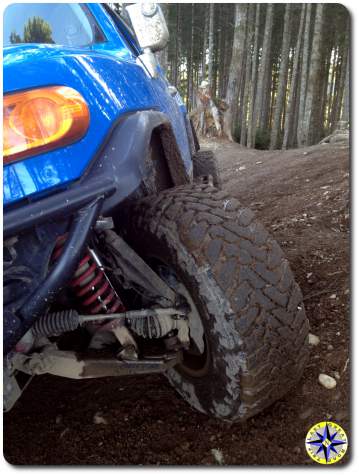 Don't modify your truck!  No, I mean it! Don't MODIFY Your Off-Road TRUCK!
Ok, let me explain. No showroom vehicle is perfect for serious off-road adventures so depending on your adventure you will most likely need to make some modifications to your vehicle.  However, before you start, be clear on why you are making the modification, what you are looking to gain and what effect it will have on the entire vehicle.  Based on our experience, we put together a few thoughts to consider before modifying your off-road vehicle.
Suspension plays a critical role on and off-road. Suspension is responsible for handling in normal driving, emergency situations and maneuvering through obstacles on the trail.  It is important to keep in mind the manufacturers geometry ideals when deciding how you will achieve increased lift and articulation.  Good quality suspension component upgrades in the right configuration will improve off-road performance and allow your vehicle to drive down the highway as well mannered as it did right off the showroom floor.  It won't do you any good to be able to crawl up 18 inch rock shelves if you cannot swerve to avoid hitting a cow on the road in Baja.  Your goal should be to increase lift and wheel travel while keeping the center of gravity as low as possible and maintain on road handling performance.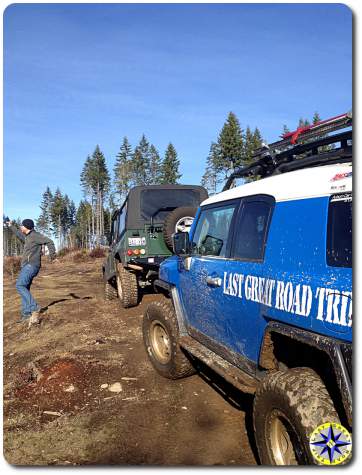 Keep the tires sized right.  Suspension provides lift but tires give you ground clearance.  Larger tires add weight, which in turn puts stress on steering components, reduces gas mileage, strains performance and often contributes to broken axles.  The ground clearance difference between 33″ and 35″ tires is less than an inch and it decreases more as you air down.  If you absolutely need 37″ tires for your adventure, make sure all your steering and suspension components are matched to safely drive highway speeds and still perform emergency maneuvers.  Choose a durable, high quality tire, with strong sidewalls and tread matched for the terrain without over sizing it. We ran 33.5″ (according to the tape measure) tires for both adventures through Rubicon and ground clearance was never the problem.
A big part of keeping the center of gravity low is to avoid putting weight on the roof.  It's easy to pack a large roof rack with fuel cans, storage boxes, spare tire, roof top tent, awning and even a kitchen sink.  But all that weight becomes a liability in off camber situations or in an emergency maneuver to avoid the cow.  We've watched several trucks easily drive through a tight trail section only to see an identical truck with a heavily packed roof rack take a ding as it leaned into a over hanging tree or rock face everyone else slipped by.  Additionally all that wind resistance up top has a very negative affect on your fuel mileage and highway driving manners.  Select a light weight roof rack and use it sparingly, limited  to lighter items such as a shovel, camp chairs or duffel bag of cloths.  If you cannot pack all the items you need for your adventure in the back of the rig, you may have the wrong off-road adventure vehicle.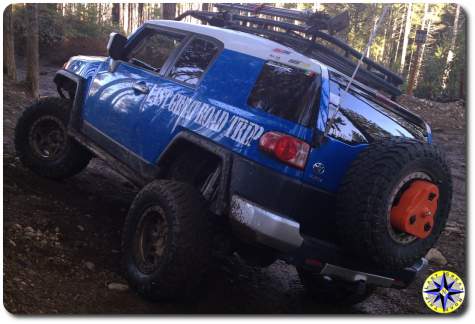 Recovery gear is extremely important and an often overlooked modification.  A good winch can be an invaluable tool for getting you unstuck or pulling a fallen tree clear of the trail.  A winch should be considered in conjunction with an aftermarket bumper.  Select a bumper that gives you a clear view of and easy access to the winch.  Like any tool, it is very important that you know how to use your winch properly before you need it and follow all the safety precautions.  There are situations that will not require a winch or a winch it not appropriate.  The right tool for the recovery may be a shovel, hi-lift jack, snatch strap or traction device such as Maxtrax. When your stuck, a good situational analysis and well developed recovery plan is far better (more productive and safer) than hastily grabbing your favorite item without a thought.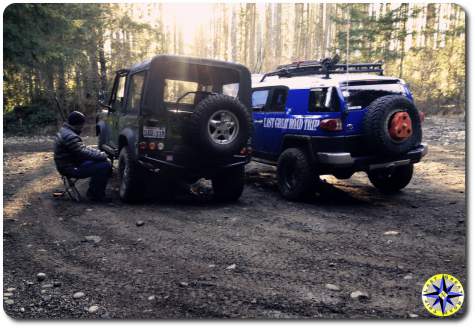 When it comes to electrical modifications, keep them on separate circuits using properly sized fuses and relay switches.  To make troubleshooting and maintenance easier, clearly label the wires and auxiliary fuse box for your CBs, off-road lights, HAM radios, compressors and fridges.  Poorly wired electronics can cause fires, drain batteries or damage other electrical components including your vehicles engine control unit (ECU).
Weight is the enemy.  Heavy bumpers, sliders, full skid plates, winches,  and steel guards of all kinds add a lot of extra weight.  This weight effects handling, performance and reduces the carrying capacity for your other stuff.  A fully loaded truck ready for an adventure should not exceed the manufacturer's gross vehicle weight rating.  Ideally it should be less than 90% GVWR.  We're always looking to pair down the weight while still maintaining the right level of protection.  We run a skid, but only for the engine.  Our Metal Tech tube bumper is significant lighter than a shell style bull bar.
Lower gears, after market transfer case, beefier third member, air lockers,  or super charger can increase your truck's off-road capability but it comes at a very high price.  For us these items take you across a very real line in the sand.  By modifying your engine or drive train you now have a maintenance intensive truck that will require a significant amount of work to keep running smoothly.  You also go from carrying a basic tool set to hauling a full mechanics chest and a host of spare parts in order to make adjustments and repairs in the field.
Stronger is not always better.  For example we've talked about how the half shaft on an IFS vehicle is a weak link.  However if you opt for beefier CVs with stouter axles you have now moved the breaking point from an easy to fix IFS field repair into the differential gears which were never design for field repair.  The same is true for beefing up tie rods that than pushes the weak point into the rack and pinion.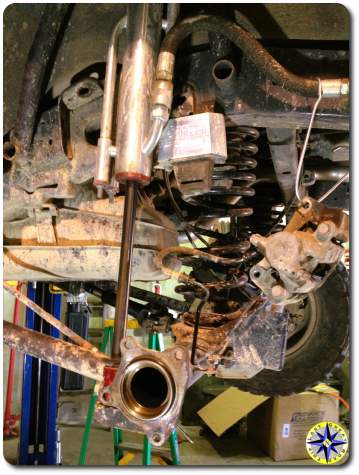 A poor quality modification component is worse than no modification at all.  For example: if you attach thin walled, flimsy sliders that cannot carry the weight of the vehicle, you run the risk of significant damage on the trail.  On the trail your spotter, who assumes your sliders are more than looks, will guide you through an obstacle that may involve using them. Better to not have them and take an appropriate line than drive with a false sense of security.
One of the best investments you'll ever make has nothing to do with your off-road vehicle.  Spend as much time as you can driving off-road.  Start out on easy trails learning how your vehicle behaves and build your skills as you progress to more complex off-road adventures.  A good off-road driving course  such as Bill Burke's 4-wheeling America, can also help jump start your adventures, better than most vehicle modification.  Nothing beats seat time, the more experienced you are behind the wheel, the less modifications it will take to safely complete your off-road adventure.
Modifications are part off-road vehicles.  Every modification has both positive and negative effects on your vehicle's performance. To get the most from your modifications it is important to understand their full impact in order to choose the ones that are right for your next off-road adventure.