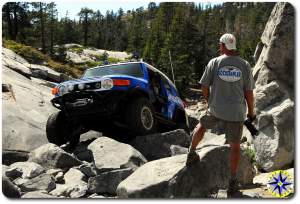 Over the last couple of years I've had an opportunity to wheel with a number of experienced guys who have forgotten more than most will ever know.  And because of those opportunities my abilities have improved.  But I am still working on the basics.
When we started this off-road adventure idea I would read and talk to anyone who would take the time to chat, then go out on easy logging roads to test what I learned.  Luckily I found a number of people willing to teach the new guy (the really great overlanders, are eager to help others).
Although the Toyota FJ Cruiser has a lot of technology such as A-TRAC and E-Locker to help you out, it is important to get comfortable with the right approach to an obstacle in the first place and know which technology best fits the situation.  You will also want to learn the low tech items including building a sand anchor or safely operating a Hi-Lift jack.
When I looked through some of the archives, I came across a few resources that stand out as belonging on everyone's reading list:
And when you're ready for the complete manual on all things overland adventure, be sure to read "Planning and Leading An Overland Expedition".
If like me, you struggle with dyslexia and reading quickly looses entertainment value, check out the videos from Bill Burke, Getting UNStuck and Getting PREpared.
This reading list will not substitute for practice, but it will provide you with a solid understanding and a strong foundation.  To really go further and get the most from your 4×4 experience, consider joining a local 4×4 organization such as the NW FJ Cruiser Club or Rising Sun Four Wheel Drive Club of Colorado. A club will provide an opportunity to wheel on trails where members can teach you the finer points of picking a line as well as demonstrate moving over, through and around obstacles on the trail.
We were all noobs once and every time I get together with experts to chat I'm reminded of just how much I still have to learn.  If you're starting out, read everything you can, join a club, find a mentor and hang in there.  Before long a newbie will be knocking on your door asking for a little advice.