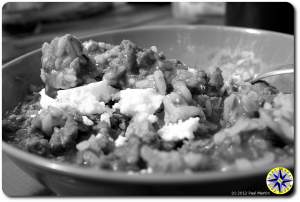 A big part of our off-road adventures is getting to camp in the middle of no where under the stars.  Years ago that would have meant a staple diet of Top Romen.  Since then we've stepped up to more gourmet fair.
There are lots of high quality ingredients that can be pulled together to make a gourmet one pot meal without resorting to expensive dehydrated pre-packaged backpacking meals or raiding the Army Surplus for cardboard tasting MREs.  A few simple tricks and you can create a favorite dinner of ours, spicy black bean chorizo chili.
1lb ground Mexican chorizo sausage
1 egg
1 quart spicy black bean soup (we like Pacific Natural Foods)
16 oz canned black beans
12 oz frozen corn kernels
4 oz can of diced mild chiles
hand full of diced Nopalitos cactus (try Nopalitos – Tender Cactus by Dona Maria)
spices (this is just a suggestion…  we like it spicy…  keeps the mosquitoes at bay)

dried minced onion to taste about 2 tablespoons
dried garlic flakes to taste about 1 teaspoon
ground cumin to taste about 1 tablespoon
ground oregano to taste about 1 teaspoon
fresh cilantro to taste about 2 tablespoon
ground chipotle to taste 1/4 teaspoon
Pre-trip food prep makes gourmet meals on the trail much simpler and manageable when the light is fading and you're hungry.  Start by finely chopping the cilantro.  In a medium mixing bowl lightly beat the egg.  Add in the cilantro and chorizo kneading it all together.  Keeping fresh ingredients from spoiling on the trail takes nothing more than a small cooler and a  source of cold.  Put the sausage mixture into a zip lock bag…  and FREEZE it rock hard, it will be its own source of cold.
Dice up the nopalitos and place them along with the rinsed beans, corn, and chiles into a zip lock bag and freeze it as well.  Put the remaining spices into a zip lock bag (no you don't need to freeze the spices).
On the morning of your off-road adventure pull everything out of the freezer and put it into the cooler (don't forget the spices).  By the time you reach camp that night and are ready to cook dinner, they should be thawed out…  put a couple of cold beers in the cooler and you wont need ice to keep everything cool.
Cooking it all up…  We do this all in one pot over a camp stove.  If you're adventurous you can try it over a fire.  In a pot over medium heat brown the sausage.  You can drain the grease but why…  everyone knows camp food has no calories, is healthy and good for you…  no matter what.   Once the sausage is browned, add the bean soup, corn, chiles, beans, and nopalitos, along with the spices.  Allow it all to simmer for 10 minutes or so stirring every once in awhile.
Serve it up in a bowl with blue corn tortillas chips.  That is all there is too it. A great one pot meal that will make you a rock chief with all your friends on your next off-road adventure.
Serving tweaks:
Top a little crumbling cheese, Queso Fresco or Panela
Serve over cooked brown rice
Line bowl with a corn tortilla and server chili on top
Dab of sour cream on top