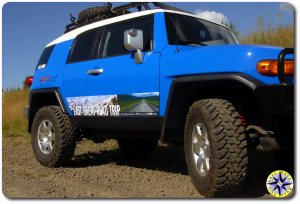 So today we stickered-up the rig. We had Steve over at Anderson Brothers take the web site banner and turn it into a vinyl graphic for the rig. The guys there did a great job creating a 70″ long vinyl sticker. The sticker gives the rig a real one-of-a-kind look.
Along with Last Great Road Trip sticker, we added our sponsors stickers as well. Sway-A-Way, are the guys who make the coil overs and shocks we are running. The 2″+ lift the SAWs added and the great ride have convinced us that we made the right choice. These have performed well on the trails so far. The Haul Road will really put them to the test and I'm sure they will make the 800 miles of dirt and gravel much more bearable.
Mark at Metal Tech installed those SAWs and put on the bull bar, winch and fog lights along with a very nice custom fabrication that keeps those big tires from rubbing (aka body mount chop).
If you spot our rig driving around, honk and let us know you've seen us on the web. Honk for Diversity.