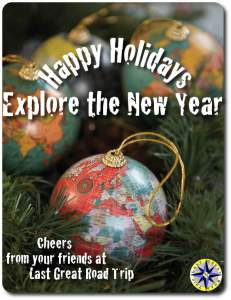 What would the Christmas season be without lists of cool off-road adventure stuff we hope to find under the tree when we come running down the stairs.  Like a giddy teenage boy on prom night believing anything is possible, we checked all around, asked friends and searched out the Internet for cool gifts and this is our ultimate 4×4 adventure Christmas list.
MSR XGK EX Extreme Condition Stove: This small stove is capable of blast furnace output and will boil water in under three minutes (kerosene fuel).  Easily serviceable in the field, this is the stove to bring along on a three month adventure into the Himalayas or an over night camping trip in the Hundred Acre Woods.
Maxtrax Vehicle Extraction: There are times a winch isn't practical such as alone on the sand or snow field with nothing to anchor too.  Sure you can pull the spare tire, dig a hole and build a dead-man anchor or you can pull out Maxtrax, set them in place and drive on out.  Maxtrax makes vehicle recovery an easy one-man job.
Petzl E99 PG Tikka XP 2 Headlamp: You can never…  NEVER… have enough headlamps within easy reach.  Whether you're making a rig inspection on the trail, gathering fire wood, finishing a late night field repair, trying to find stuff in your tent or looking for the perfect tree to relieve yourself after dark, a hands free light is a must.  And just to be clear, one headlamp is not enough.  Spelunkers bring a light, a backup light and a backup to their backup…  as a minimum.  Keep one or two in the rig, one with your camping gear, one with the cooking equipment, one in the emergency kit…  you get the idea…  Don't forget lots of spare batteries with each.
ARB Fridge Freezer: There is nothing like pulling out a steak for dinner along with a cold drink on day five of an off-road adventure.  And what would single malt scotch be without ice as you sit around the fire with a fine cigar.  The ARB fridge freezer is a 12 volt, low amp draw solution to a cooler full of melted ice sloshing around in the back filled with soggy groceries.
Pelican 1630 Case: What better way to be ready to go on a adventure than always having your gear packed in waterproof cases waiting to be strapped to the roof or stowed in the back of the pickup.  These cases will keep everything inside dry and safe from the shocks and knocks of the road.  In the unlikely event of an emergency water landing, the Pelican Case will double as a flotation device.
SPOT Satellite GPS Messenger: Hula Betty gets a little anxious when we're off the grid for several days.  The Spot lets you send an "OK" message telling folks you're fine and not to worry.  And just in case your not ok, the Spot will let you send out an "SOS" with your exact GPS coordinates to the authorities, alerting them that you need help.  The Spot is satellite based so no worries if cell coverage is non-existence.
Gerber EVO Jr. Serrated Edge Knife: Remember how your grandfather always had a pocket knife on his belt.  He was prepared for any task that came up.  We're not talking about a rebuild your engine multi-tool or a gator skinning 18 inch Rambo saber blade.  No, just a simple pocket knife with a good sharp blade that will effortlessly cut parachute cord, slice cleanly through a wad of duct tape or whittle a good sharp stick.  In the hands of anyone who understands the versatility of a pocket knife, the uses are endless.
12-by-20 Super Heavy-Duty Tarp: What can you make out of a tarp?  How about a brooch, a hat, a pterodactyl… The uses for a tarp are up there with a good pocket knife or duct tape.  Many times when on an adventure we've turned a tarp into a makeshift shelter staying dry when the weather turned worse than expected.  A tarp also makes an excellent awning for an afternoon siesta or keeping the camp kitchen dry while cooking up a pot of chorizo chili.
Kermit Chair: Sure there are hundreds of camp chairs you can pick up at any supper store.  Hell, just look in the back of any soccer mom's minivan and you'll find half a dozen different choices.  But none of them are particularly comfortable.  The Kermit Chair lets you pack tight, without giving up on comfort, design and beauty.  No more slouchy seats and squishy backs that you slump into.  These chairs support your tired body as you relax around the fire.  These guys pay attention to details, the add-on cup holder, it took over a year to develop.
Wool Blanket: We always have an emergency kit in the rig where ever we go; work, grocery store, skying, or the Arctic.  And in that kit are two wool blankets.  Unlike cotton, wool blankets keep you warm even when they are wet.  They also make great insulated padding when your sleeping on the cold hard ground.  You can even do your best Clint Eastwood imitation (anyone remember "The Good, The Bad and The Ugly") turning it into a poncho if you have to hike out.
Chaser Off-Road Trailer: A fully equipped off-road adventure trail with 46 cubic feet of storage, lots of ground clearance to keep up with the rig, fold out trailer top tent, separate deep cycle battery with solar charging panel for running a fridge and electronic gadgets, fold out kitchen or work area, 19 gallon water tank…  This is roughing it easy.  While it might be a stretch to shove under the tree but you could always leave it in the driveway and set a tree on top.
Katadyn Pocket Water Microfilter:  If you plan on a long off-road adventure, eventually you will come to the conclusion that you can not carry all the water you need.  Depending on were you are exploring you will find all sorts of nasty critters swimming around in the local water source (even if it comes out of a tap or clear mountain creek).  The Katadyn Pocket Filter will remove all giardia, fungi, parasites, cholera, typhoid, cryptosporidia, salmonella and other harmful bacteria, parasites, and germs by forcing the water through its ceramic 0.2 micron filtration element.  This is the water filter that is standard issue for international Red Cross field workers.
Where Is Joe Merchant? A Novel Tale: We all know I'm not much of a speller…  you've read this blog right?  Not much of a reader either…  Dyslexics untie!  But for any die hard Parrot Head this one is a must…  Frank Bama takes off on an adventure in his sea plane to find his ex-girlfriend's brother, the notorious rock star Joe Merchant.  More a collection of short stories that expand on many of the "Fruit Cakes" song lyrics.  If this doesn't get you in the mood for an adventure nothing will.
Danner Quarry GTX 6 Boots:  Hunting down firewood, hustling up hills to take a baring, running out a winch line, digging for buried treasure or kicking down doors to save the Swedish bikini full-contact origami team requires a sturdy set of boots .  More twisted ankles, bruised toes and blistered feet occur because of flimsy footwear.  Out on the trail is not the place to show off your pedicure in flip flops. Traipsing around in the bush with blisters is low on entertainment value and no way to go through life.  A good set of boots will keep your feet cozy, ankles supported and possibly save you from a snake bite.
This list could go on forever, but Santa only has so much room in his sleigh…  I wonder if it has 4WD… Maybe he should get a Defender 110 or how about a Land Cruiser FJ45.
What's on your list?  Tell us your great ideas for gear under the tree, stuffed into a stocking or sitting out in the driveway.