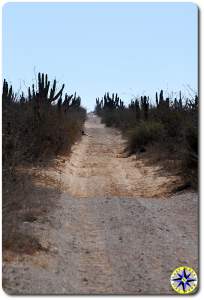 If you're into desert racing, and who isn't, you feel me when I start going off on this tangent.  You know what I mean… I start waxing about $250,000 trophy trucks flying through the sand and rocks at break neck speeds, where just finishing is as much an accomplishment as winning, where good times are measured by the amount of dirt removed from body cavities not intended to hold dirt and the number of night terrors you experience while driving the course.
Yes I'm talking about the desert race to end all desert races, the SCORE BAJA 1000.  Depending on how you define started, the race can be traced back to just after midnight on March 22, 1962.  Legend has it Jack McCormack and Walt Fulton of American Honda decided to hold a long distance run to prove the reliability of Honda's new CL72 Scrambler. They approached well known off-road dirt biker and local Honda dealer Bud Ekins for suggestions. Bud suggested the Tijuana to La Paz route (Mexican Highway 1) which was 950 miles (1,530 km) of rocks, sand washes, dry lake beds, cattle crossing, mountain passes, and paved road.  It was this very story that spurred us onto our Baja off road adventure.
During that first run, Dave Ekins recorded the first official timed run in 39 hours 56 minutes covering a distance of 952.7 miles (1,533.2 km for the rest of the world). The event found its way into the Globe, Argosy, and Cycle World magazines, earning awe and respect for Honda and the Baja run.  Rumors of near death encounters and dangers of epic proportions over the years have elevated the race to legionary status in the eyes of racers and fans alike.
The BAJA 1000 race unites drivers from around the world and across multiple platforms.  Although the heavily sponsored trophy trucks grab the spot light, you will find just about everything on two and four wheels has a class to race in.  Many of the teams and crews are not much more than friends who got together and worked through the nights the week before to assemble (or strip down) a little Volkswagen buggy.  This remains a wide open race with classes for professionals and their crews as well as amateur drivers and backyard mechanics who just as often beat more serious racers through the shear luck of simply crossing the finish line or at least breaking down further into the course.
The course changes each year and this years BAJA 1000 promises more of the same great racing.  Starting on November 20, 2008 and finishing November 23, the course will begin and end at the convention center in Ensenada, Baja California Mexico.  With a time limit of 31 hours to cover approximately 631.35 miles racers will drive continuously, stopping only for fuel, flats, and to roll their rigs back onto the wheels.  Remember this is the BAJA 1000 you don't stop for bio-breaks, deal with it!
While the lucky fans will be camped out along the course to encourage their favorite drivers, the rest of us can still experience the race.  BF Goodrich Tires and Volkswagen of America announced the launch of a new online experience designed around bringing the captivating sights, sounds and real-time information of the 41st annual SCORE Baja 1000 to everyone.