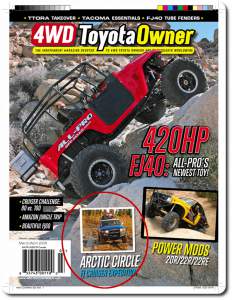 If you are new here, you can read more on our Arctic Circle Adventure to the Arctic Ocean. When you're done come on back and follow us to Ouray CO. for the FJ Summit and the Baja. Who knows what else we may do next.
For everyone who followed the Arctic Circle adventure and still wants more. Here is your opportunity. As you know throughout the expedition we kept the website going, (not wind nor rain, nor sunshine, epic views or great company could keep us from our appointed rounds) with descriptions of our adventures, tales of people we met and pictures of what we saw.
Those who read everyone of the 19 days' entries, and you know who you are, we salute you! The rest of you who have been waiting for the cliff note version of the adventure, here is your opportunity.
4WD Toyota Owner magazine is publishing in their March/April issue our story along with some of the pictures that we brought back. It is great that we have one more opportunity to share our adventure.