Start: Somewhere on the high seas
Finish: Haines
Miles traveled today: 0
Miles total
Whales: 10
Eagles: 2
The lack of Internet connections has been frustrating. I seem to spend all my time hoping to catch a WiFi connection as we pass little fishing villages and ports. The AT&T GSM is sketchy at best and the biggest racket in port is the hot spot connections where for a dollar a minute you can use their connections which I'm sure has all the speed of a 300 baud dial-up connection.
When you're on a boat you run into the same people over and over and over… and eventually you can get everyone to tell you their stories. One of our new friends is Lisa who is traveling for a month with a tour group seeing the US and Canada. She is a little out of place with her group since they are all retired and twice her age. While not retired, Lisa has one of the more tranquil jobs you can imagine. She works in a monastery helping out an order of Carmelite Nuns. It also turns out that Lisa had seen us on the Internet a couple of weeks ago and recognized the rig when we pulled up in Prince Rupert. She was even telling folks on her tour about our adventure.
On board a ferry you become very adaptive and you appreciate how different everyone is. Take last night for instance; around midnight while putting together day 3's story, the slow paced voyage took on a new attitude. On the ferry there is a lounge room with recliner chairs, much like a airplane only wider and room to move around between the isles and stretch out. This is an area where you can relax and those who did not get a cabin can sleep. As I sat there recalling the day's events, a few folks were bedding down as we pulled into the port of Ketchikan, Alaska. You really don't appreciate the peace and quiet until it is gone… and that is exactly what happened when the Hope football team as well as the Juneau girls and boys swim team showed up with their blankets, pillows and teenage hormones. About 60 high school kids joined us on journey.
You have to give these kids credit though, when they go to a meet or play an away game they really go. The football team will play two games and be away from home for six days on this road trip. So while we were enjoying the sights, many of them were having to crack the books now that school is started.
As for Dad and me, Dad seems to be the stronger of us. Today, I had to get some time in the rack catching up on my sleep, while Dad was out and about reading, seeing pods of whales, icebergs and advancing glaciers. Dad continues to read his financial books. I seem to benefit the most from his reading… after he digests the savings and tax impacts I get to hear how it can be used practically for my situation. Like most good financial information, you wont get rich over night, but you will build a solid portfolio that is working for you. The information Dad is helping me understand is all about solid foundation.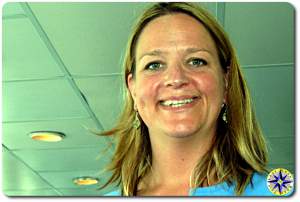 Who is who. Of the women's photos posted here, who is Lisa from Louisiana, who is Victoria traveling to Petersburg, Alaska and who is our Forest Ranger from Oregon State?
Shelia: the Harley riders are Bob and Deb. A couple of the nicest people you'll ever meet. Should we substitute Jim and Shelia on the next Harley story?
Mom: We are having a great time… Wasn't the Last Great Road Trip T-shirt enough? Everyone wants something… Were were you when we asked who would come on the adventure?
Joyce: Whew thought we lost you… We knew you were reading the BLOG… we could see your lips moving.
Chris: thanks for the email