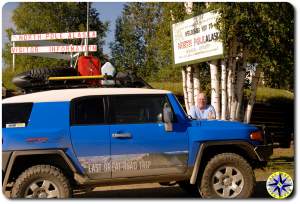 Start: Beaver Creak, Yukon
Finish: Fox, Alaska
Miles traveled today: 355
Miles total: 1671
Coyote:1
Fixing the mess I created but we'll get to that in a moment. This may be the last Internet connection for a while, tomorrow we start up The Haul Road. You can see what the conditions are like and get road reports from the Alaska Road Travel site. We will be on the Dalton Highway
The road is easy it's the technology that is hard. As I unwind in the B&B we are staying at, I realized I have uploaded some pictures with names that match the previously uploaded pictures. This is playing havoc with the site and driving me to drink. We'll see if I can unscramble the mess by the morning.
We just finished dinner at the Silver Gulch Brewing & Bottling Co. When I was going to university at Portland State I quickly realized that while Seattle had a Starbucks on every corner, Portland had a brew pub on every corner. Falling back into my youth we pulled into the Silver Gultch so I can now say I've been to America's most Northern Brewery. This place is pretty cool. Located in the small mining community of Fox, Alaska, it started out in the 1920 as a road house and became a bar in the 50's changing owners and names over the years until in 1998 Glenn Brady took over the place and moved his home brew to the big time. You can read more about them on there website Slivergulch.com
Keeping with the frontier spirit I thought I would do a little horse trading at the bar. After our dinner I call over the manager, Mary and started to bargain. Following a few minutes of dickering back and forth we came away with a handshake and a deal… Mary gets a Last Great Road Trip t-shirt and I get a cool Silver Gulch Brewing & Bottling Co. t-shirt.
Surprisingly we found the North Pole just outside of Fairbanks. Ok, so this was a pure tourist trap but you have to do it. Years from now when we recall this trip we will be able to tell everyone how we went to the Arctic Circle and the North Pole. Hula Betty finally got over the trauma of the bear and is back in the pictures.
Leaving TOK put us on target to reach Fairbanks and than Fox. We have the road all to ourselves most of the time with only the occasional vehicle heading south. With tourist season over in the north very few motor homes are out on the road. This is good since this is now ADOT (Alaska Department of Transportation) orange cone, fix the roads season. Alaska uses a lot of oil and asphalt to patch the roads… in fact with all the construction zones we drove through today the Rig is getting an free undercoating thanks to ADOT.
We might have actually waved good bye to Mary and James from the ferry as we drove past the rest stop they were having lunch at. 663,300 sq miles and we keep running into our same two friends.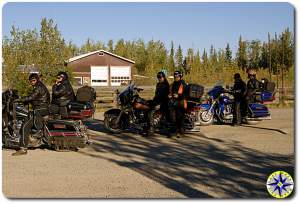 Tok, Alaska is where you drive through if you are coming from or going to anywhere between Alaska and Canada. And Tok is were we caught up with another friend from the ferry. Traveling to university in Fairbanks on a student visa, it appears that it is important you have the right visa… Unfortunately homeland security back at the previous board gave him the wrong type of visa stamp. We hear you really get to know the scenery when you drive between the boarder and Tok several times in a single day to straighten out their mess. At least the visa is all good now.
Today when we pulled up to the US Boarder to get back into Alaska we were ready for Dad to come up with an alert. Sure enough that is exactly what happened. When we laughed and told the officer that Dad came up most wanted twice now, the homeland security guy quickly recognized that the middle name was different and told us he would fix that. I'm not sure what "fix that" means, but I'm sure Dad will find out when we cross over the board again in a few days. Mary and James beat us to the board and just left as we were waved to them both… again.
Harley riders used to mean tough bad ass biker gangs… now they are ex-CEOs and grandmas. They still look bad ass in leathers though. These guys are just one of the many groups we've run into on this adventure. Like us they are pursuing their passion for the open road on their own terms.
I knew the day was going to be another great one when grabbing coffee I run into two young women who lead adventure tours out of Anchorage. They are on their way to Utah with all their tents, rafts and equipment in order to set up for the winter season down south. Before leaving they wanted a couple of photos so they could tell their friends in Utah about us. I hope Hula Betty isn't jealous, she was back at the hotel with Dad.
While Dad closed out the hotel bill and said good bye to Mary and James I ran down to get some gas. We met Mary and James at a rest stop the other day and have been passing each other on the road and showing up at the same places ever since. They are retired and driving from Portland Or. to Anchorage and back.
Cooper: Any friend of John's… Glad to have you're along with us on this adventure. Keep the comments coming and start planning, your 3 year old will be 12, 27 and then 44 before you know it.
John: Thanks for the notes.
Mary: thanks for the encouragement.
Joyce: He was a Kodiac looking fellow about 19 feet tall when he came rambling over the hill expecting me to do one of two thing: flip or fly I didn't do either it hung him up… He started sniffing around my body trying smell fear; but he aint gonna smell no fear; it hung him up… being charitable and cautious, well hell I approached him and said I want you to be my buddy… buddy bear. I forgot what a great song that is… Thanks for sticking with us on this Jimmy Buffet, Caribbean rock and roll, Zen based roller coaster road trip. Your links from Trauma: The Drama will over load our service if all your reads follow your advice and take a look at us. Thanks for the plug.