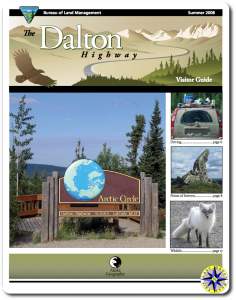 Friends and family have asked why Deadhorse, why the Dalton Highway, why not Anchorage? I think the Bureau of Land Management described it best in their The Dalton Highway brochure when they wrote: "Ultimate Road Adventure". The Dalton Highway is a primitive road that begins 84 miles (134 km) north of Fairbanks and ends 414 miles (662 km) later in Deadhorse, the industrial camp at Prudhoe Bay. It provides a rare opportunity to traverse a remote, unpopulated part of Alaska to the very top of the continent. Traveling this farthest-north road involves real risks and challenges."
To help decide if you are up to the challenge and assist in preparing for the experience the BLM has put together a great resource. You can down load "Dalton Highway 2008 visitor guide".
Great snippets you'll find include:
KNOW BEFORE YOU GO
There is no public access to the Arctic Ocean from Deadhorse.
There are no medical facilities between Fairbanks and Deadhorse, a distance of 500 miles/800 km
Food, gas, and vehicle repair service are extremely limited
There are no banks along the highway
After reading through the brochure you get a sense that if you are looking for miles of nothing this is the stretch of road for you. For the last great road trip, this is the exact description we were looking for. We'll of course pack an extra spare, a can of gas along with a few bags of Cheetos and beef jerky.
When describing road conditions, the BLM states: "The road is narrow, has soft shoulders, high embankments, and steep hills. There are lengthy stretches of gravel surface with sharp rocks, potholes, washboard, and, depending on the weather, clouds of dust or slick mud. Watch out for dangerous curves and loose gravel. You may encounter snow and ice north of Coldfoot any month of the year. Expect and prepare for all conditions."
Like most things in the far north, the rules of the road have been modified to include a few you might not find in the lower 48:
Big trucks have the right of way
Stay on the right side of the road
If you spot wildlife, pull over to a safe location before stopping
And all this… is why the Haul Road is the last great road trip's final destination.
Update: here is the Dalton Highway 2013 visitor guide