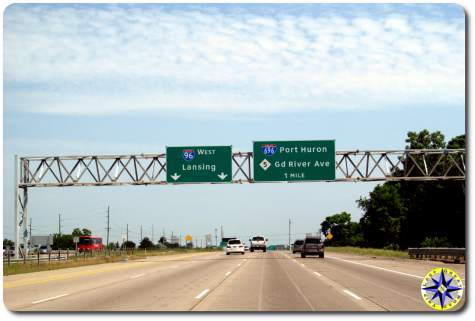 Sometimes the desire to take the road less traveled comes in a moment when you can't take the road at all.  Your only option is to imagine the trip for another day. This morning was one such occasion. The day was perfect for a road trip. It was not too hot or too cold. It was not too bright or too cloudy, and everything in view seemed as if it were as it was meant to be. I was traveling east on I-96 at dawn in Michigan heading toward Detroit when the desire to just keep on driving washed over me. I get it. I was already driving, so…?
To me, there is driving and there is driving. We drive to get where we need to go. That's driving. Then we drive for the sake of the act of driving, for the sake of the road, and for the sake of what is possible when we are on the road. That was the kind of driving urge that hit me. I started to think of the highways that triangulate the state of Michigan and how in a relatively short amount of time I could take them all. Then I started to feel light and free. As the notion of the route unfolded in my mind, I realized the very real therapeutic value of such a trip and it became more than an urge. It became a need; a bonafied desire to hit the road.
Michigan has a relatively uncomplicated highway system that has a deliberate design toward getting goods and people from one end to the other efficiently. It starts with I-96, which stretches from Muskegon to Detroit, passing my neighborhood at its midpoint. Moving eastward, I-96 becomes one of my favorite roads, I-696. A cement royo cut through the base of the northern suburbs of Detroit, 696 is like a raceway for drivers who love a fast ride through a four-lane cement tunnel of over passes and narrow on and off ramps that look like stairwells designed to dispense new obstacles in the paths of the drivers already on board.
I remember the day that I-696 opened. I was so excited for it that I scheduled a meeting in Sterling Heights that day so I could be one of the first to drive it. I got up early and left at 6 a.m. It was a clear sunny day and when I hit 696, there was no one in front of me. It was just me and that beautiful new 4 lane track tunneling through SE Michigan. Acutely aware of its raceway design, I abandon all concern for the number of police cars that might be strategically hidden on those narrow merge ramp-wells and opened up. By the time I hit the first Dequindre Rd. exit sign, I was cursing at 120 mph with no one in front of me and no one in my rearview mirror. I chalked that drive up as one of the best days ever. It was beautiful. I am an hour and 5 minutes into my trip.
Where I-696 meets I-75 it becomes the bottom left angle of this equilateral triangle route I was dreaming of. I-75, is the grandfather of highways in Michigan; making I-94 the great and decrepit uncle. I-94 being too far south from my goal, was not a part of this open road fantasy, but I-75 was elemental with its Bi-polar attitude towards drivers and its role in moving traffic through Michigan. At this point, I-75 is narrow-minded and unforgiving. He is begrudging in his willingness to let vehicles pass along his corridors. Unpleasant and congested he dares one to mount his pavement and accept the challenge of navigating him. It is a challenge worth taking. The prize is reaching the point at which he opens up smooth, wide and passable, where the air changes north of Flint and you sense that you've just progressed across a new parallel where the air is clearer and cleaner and the views immensely more scenic. I-75 ends at the Mackinaw Bridge 4 hours north, where the apex of the triangle can be found. I stop and take in the view of the straights and recall the countless trips my gram and grandpa took us on across to Mackinaw Island when we were kids contemplating my route west to where 31 leads down the beautiful west side of Michigan. I won't follow 31 immediately though because there is a better way.
There is M-119, arguably the most beautiful highway in the state. For a moment, I drop down I-75 south toward 127; the highway that dissects the state and the triangle of my route splitting it in two equal parts, until I pick up Levering Rd. to M119, the Tunnel of Trees. M 119 winds narrowly and delicately for more than 20 miles along the north east shore of Lake Michigan through Harbor Springs, around Little Travers Bay and into Petoskey where it meets 31. I am 7 hours into my trip, only because I stopped for lunch in Mackinaw City, Cross Village, Harbor Springs, or Petoskey to relax, refresh and watch the water for a moment while I stretch my legs. Along M-119 the curve are as succulent as a young woman's body draped in a thin veil of leafy lace. Around which one is most likely to confront a cyclist, motorcycle, or narrow hidden drive.
31 is the left angle of the triangle. It too is lovely in the way it weaves through countless small, quaint northern Michigan harbor towns. This is the toughest part of the trip as it is nearly impossible not to stop at every single one or stop at an intriguing road side stand filled with pies, jams, or organic produce or bitter cherries in between. Like M-119, 31 is a narrow two lane highway that requires deft attention to the wheel and the road when the desire is to watch the view all the way to Muskegon, where I-96 meets me again. There are no 120 mph stretches here. I am now 11 hours in to my dive.
At 7:00 p.m. I arrive home, only because I stopped for a half an hour to pick up dinner. By now I have taken I-96 from end-to-end, and I have consumed the majority of the lengths, if not all of the lengths of the others as well.  I have seen every corner of the state, save the southern border and traveled more than 600 miles. I've crossed the Zilwakee Bridge and seen the waters of the great lakes, but mostly, I drove. As I enter my home, no one the wiser, I imagine my family asking how my day was. I imagine myself smiling and telling them, "It was perfect."
Tomorrow, I ride.