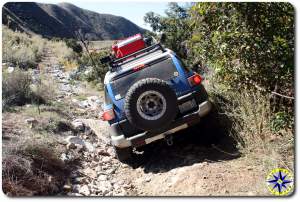 Watch the You Tube videos of the Baja 1,000 race and you see rigs blowing out of Ensenada, screaming down dirt roads or corning on three wheels as they come into a check point.  This is not what we were seeing on this off-road adventure.
Baja is really two states, Baja California in the north and Baja California Sur in the south.  The north is filled with mountains.  Ok, compared to the Pacific Northwest these are large rugged hill reaching up a little over 4,000 feet toward the sun.  The weather in the north is clear and dry with wide temperature swings over the course of the short days.  We woke to morning temperatures in the low 4os and by noon we were basking in the warmth of the high 70s.  This is still more or less a desert with few permanent water sources.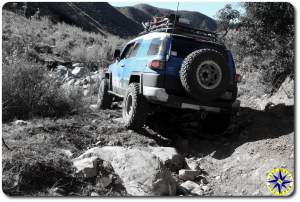 What rain does fall in the mountains, races to the coast (Pacific in the west or Sea of Cortez on the east) in flash floods leaving behind dry stream beds and washed out roads, continually changing the course's terrain and making travel interesting at best.
While I've been to the Rubicon, the Arctic and all parts in between, Brad had never been off-road.  There is a chance that in order to convince Brad to come on this adventure, I may have miss led him a bit when I suggested the race course would keep us on old dirt roads with a few tough stretches thrown in for good measure.  But I had never imagined the complexity of the north. Not even close.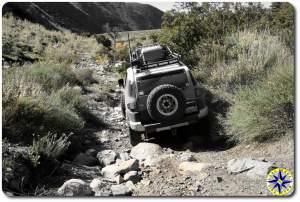 Water follows the path of least resistance and up here that is the road…  or what is left of the road.  Carved into the sides of the hills the roads have edges defined by rocks, loose dirt and cambers that provide passengers with first hand views of sheer drop offs into the valleys below.  Than there are the sections that are just gone.  There was a trail here once and now a long stretch of it has gone.  Just gone.  Normally off-road means off-pavement following a defined marked trail.  The Baja gives a whole new meaning to the term off-road.  No markers, no tire tracks, no anything except a path pushed aside by fast flowing water on its way home.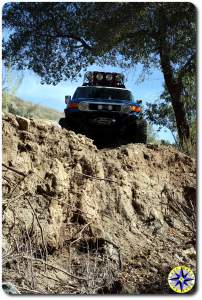 Traveling the section outside of Mike's Sky Ranch that treks through the hills was a series 100 yard dashes.  We got out of the rig, walked along the trail, scouted the obstacles and gullies than climbed back into the rig and drove the stretch we scouted.   I would explain to Brad where I wanted him to guide my wheels and he would spot me through.  After awhile, to speed up progress, Brad simply started walking ahead while I followed in the rig. He would spot me through a tough stretch and than continue walking ahead.  Brad's baptism into wheeling started with a plunge in the deep end.
We had the route loaded into a hand-held GPS but when the washouts pushed us down into dry stream beds that veered away, we discovered we were on our own.  In order to move forward we needed to pick our way through bushes, rocks, washouts, and hills with no markings, tire prints or GPS way-points.  Brad kept an eye on the hand-held trying to triangulate us back in the general direction of the course.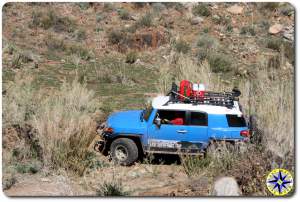 Two hours into this Brad guesstimated we had covered ten miles.  Each morning we reset the trip odometer to zero.  I glanced down at the odometer and relayed back to Brad that we had only covered 1.6 miles.
By mile four  and several hours later we found our way onto a goat trail.  Obtaining your exact location in the hills is difficult.  We decided that rather than break out the second GPS, detailed maps and compass to identify our exact position, we would follow the goat trail that appeared to have us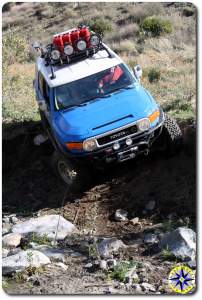 moving in the same general direction of the course.  We knew we had to maintain a south east heading and could see by the hand-held the course was running parallel just over the hills to the north.
Navigation is an odd concept.  Frank Bama says the best navigators aren't really sure where they are going until they get there.  We, had several navigation tools at our disposal.
Hand-held GPS with the way-points and route loaded
Baja Gazette map book
Laptop with TangoGPS
Laptop with Google Earth (route cached)
Compass
iPhone with Google Maps app
Moon Baja, travel guide for the Baja – Tijuana to Cabo San Lucas
Each had there use and Brad made the most of them doing an amazing job at keeping headed in the right direction.
The hand-held GPS tracked our progress against the known route and would relate our current position to the route.  If we were off course it would triangulate a path trying to get us back on course.  Of course it did not take into account mountains, valleys or impassable washouts that maybe in the way.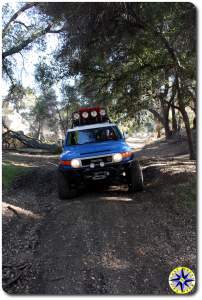 The Baja Gazette gave a big picture and allowed us (read Brad) to locate ourselves in relation to cities, highways and dirt roads.  More importantly it marked the location of all Pemex stations but when it came to city street details or navigate able landmarks is left something to be desired.
Google Maps on the iPhone provided great navigation in the cities and towns showing turn by turn directions to hotels, cafes and boarder crossings.   Google Maps is what got us in and out of Tijuana.  It worked great… at least in cities and towns that had cell coverage.
Moon Baja is an invaluable resource when it comes to finding accommodations in the dark.  When we would pop out onto the highway at night a quick glance through the travel guide gave us the information we needed to decide which town we would eventually stop in for the night and what motel to keep an eye out for. This travel guide never steered us wrong.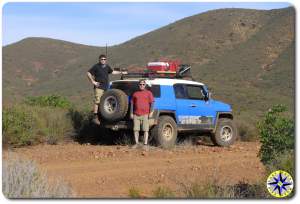 We didn't have to dig into box of other navigational tools, but they did provided a sense of security knowing they were there if we did need them.
We paralleled the course for the better part of the day until eventually intersecting the route after passing through one of many ranches along the way.  We had driven by several "prohibido el paso" signs along the way but we always received a cheerful wave from those working the ranch and we took that to mean:  If you respect the ranch, don't bother the livestock and close the gate behind you, you can pass.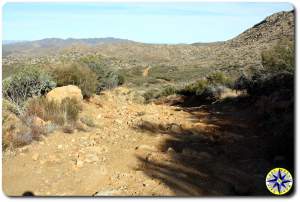 Our goal for the day was 200 miles.  At 4:00 p.m. ish, we caught back up with the trail and popped out in the town of Vicente Guerrero after logging a little more than 75 miles.  A few miles less than planned but there was a Pemex station and hotel  82 kilometers south, down in El Rosario.
For many years El Rosario was where the Baja blacktop ended and the adventures began.   Although the pavement now keeps going, the grip of adventure and the race still has a tight hold of El Rosario.  Located in this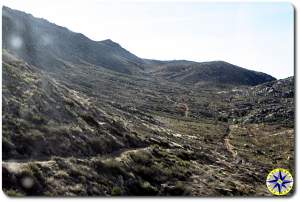 little town the Baja Cactus Motel is by far the best hotel in all of Baja. Big clean rooms, king size beds, huge showers with endless hot water, satellite TV and wireless Internet.  All at a price that can not be beat.  And if that is not enough, it is located next to a Pemex and Mama Espinosa's Restaurant.  Step into Mama Espinosa and you are hit by the wall of signed Baja 1000 race photos, dating back several decades.  If the race stickers on the windows or history on the wall's of Mama Espinosa doesn't draw you in, the lobster enchiladas, chile rellenos and sopa tortilla will.  Tonight we ate like kings.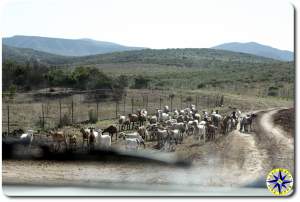 Free WiFi in the room and a laptop had us Skyping our families after dinner to let them know we were alive and still on track…  More or less.  You can never have too much technology and we took advantage of all we could carry.  This evening Brad grabbed the Baja Gazette and laptop with Google Earth to add notes and highlight our path on the gazette for future reference to ensure we could jump back into the race.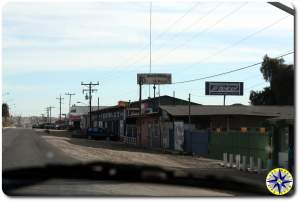 This may not have been our plan for the day.  Our ego had been bruised a bit by the slow progress.  My driving and Brad's navigational skills had been tested.  But we came through it all and were back on track.  Besides after a long hot shower, phenomenal local food, Skyping the family, a little free HBO and our nightly cigar and bourbon in the courtyard; the day seemed better than most.  After all we were in the Baja and well on our way with this adventure.