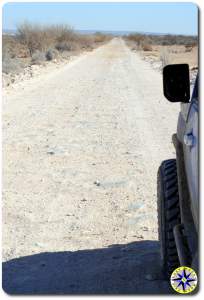 The people in Baja are warm and friendly.  Similar to my travels in Alaska, I found the folks down here are self reliant but count on each other if needed and they are quick to extend a helping hand to others.  When stopped on the side of the highway, if a car did drive by, there was a good chance they would slow down to ask if we were ok.
We never felt uncomfortable, out of place or unsafe.  Yes there are problems in Tijuana and other boarder towns but in Baja everyone we met was gracious and showed interested in our adventure. When we stopped for fuel, coffee or dinner we tried to get a little small talk going.  Everyone was always willing to chat with us. The problem is, we don't speak Spanish!
Ok the phases we do know… In order of importance: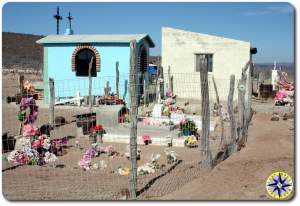 hola
sí
gracias
baño
cerveza
no habla español
The rest of our communication with locals in the back country has been a combination of charades, pointing, and a reliance on their English skills which only slightly surpassed our Spanish.  Yet wherever we went we managed to work it out.
We did our best to avoid being the ugly Americans and for that we were rewarded with guidance to the best restaurants and a feeling that we were welcomed wherever went.
We brought t-shirts to trade and give away.  We gave them out to the military guys at check points, inn keepers and kids.  While everyone appreciated the shirts, what we discovered was that in Baja, the real currency is stickers.  We drove through several small towns and when the kids saw us slowly motoring through, they would start running towards us.  Like kids chasing the ice cream truck, waving their hands and yelling at the top of their lungs, stickers… stickers… stickers.   Even when we tossed a few shirts their way, we'd still hear their squeaky voices scream "any stickers".  Every window, sign post and car in Baja has been sticker slapped by kids with race logos.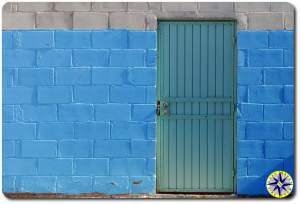 For some reason we found ourselves stopping at cemeteries a lot on this trip.  We would quietly look around and pay our respects.  The towns and landscape are three shades of brown, but the cemeteries are filled with brilliant colors.  We found beautiful marble headstones next to simple crosses.  All the graves were covered with bright plastic flowers and prayer candles, letting everyone know the person resting below the marker is missed.  There is a certain peace in these places were so many voices now rest quietly under the hot sun, surrounded by color and light.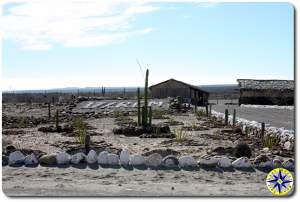 I've traveled to many foreign countries where the military runs airports, check points or border crossing.  The one thing I learned is that you don't take pictures or poke around.  So when we came up to an abandon camp, we decided to look around.
Someone had put a lot of work into arranging gardens, clearing cactus, painting rocks and making the base look nice.  The structures weren't much more than fancy pole barns with thatch roofs but they had been kept up.
We wondered why this base had been abandon.  Is the base simply temporary, used when there is a check point close?  Is it for training cadets when there are new recruits?  Or is it just that budget cuts know no borders.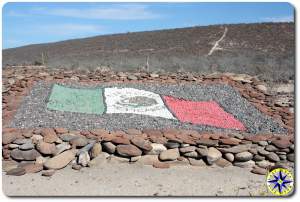 The race course uses lots of marked roads.  Sure they are beat up rock and hard-pan, but they are on the map and used to connect many of little towns with Mex #1.  The one we were on was the usual rattle your teeth, kidney punching, make you pee road.  As usual we had it to ourselves and hadn't seen another truck on it since we climbed onto it from the marshes.  Occasionally we'd think about how the locals don't call it the Baja race course, they just call it the only road into town.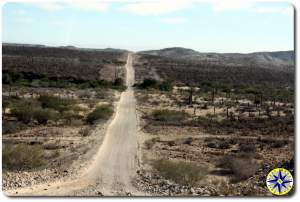 But progress is coming to the Baja.  We came over a hill where the road bent around a corner and found out where progress was, exactly.  One of the road crews was grating and paving while the other was building a bridge over a washout.
No one seemed to mind that we were driving through all the construction and no one seem to care that we were unsure where they wanted us to go (no signs, arrows or cones).  No one even noticed that we that we had to drive through the dirt and cactus to get around their equipment sitting idle, blocking the road.  They just looked over and waved as we drove by.
Getting through all the construction rewarded us with fresh smooth asphalt laid out before us.  No lines, no markers or signs, just miles and miles of black silk ribbon as far as the eye could see.
We'd driven over some other Baja asphalt roads that were more pot hole than road.  We'd been on this road since its beginning (or ending), at the little coastal fishing village and we had not seen an other town or car, just the one miner and his little donkey.  So WHY PAVE THIS ROAD?
Whatever the reason, progress is coming to the Baja.  The next adventurers to come down here will never enjoy the same experiences we had motoring down this lazy dirt road.
The new pavement took us quickly back to the coast and a town which made its living from tourists.  Surfers, boats and beach combers dotted the sand.  We slowed down to look, but after having miles of coast line to ourselves, we didn't need to stop.  After all it was getting into the late afternoon which meant it was time to start thinking about tonight's accommodations.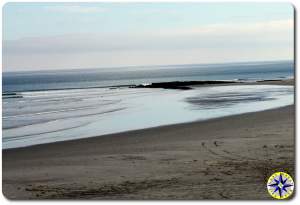 We wanted to put a few more miles behind us before calling it a day.  Thumbing through the Moon's Baja Traveler's Guide did not paint the picture we were hoping.  The guide used terms like, cockroaches, shared toilets, and dirty linens to describe the better motels in Ciudad Insurgentes.  The descriptions for Ciudad Constitución were only slightly better with one exception.
Rolling in well after dark into Ciudad Constitución gave us one more new Baja experience.  Ciudad Constitución is a city with about 40,000 people who work in agriculture, light manufacturing, and transportation.  This city offers little for tourist except motels (really this is how the guide describes it).  No touristy gift shops, this is a true representation of where Mexicans work and live.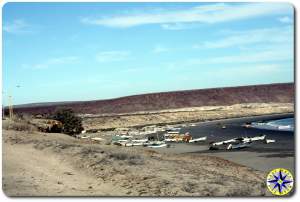 We're not exactly looking for tourist stuff.  We loved this place.  Hiding three blocks off the main drag, the Hotel Oasis was a very nice, modern, clean, albeit spartan motel.  It also has secure parking, a big plus with all our gear strapped to the roof.
The señorita (ok la mujer is proper but it doesn't roll off the tongue like señorita) at the desk was all smiles and little english.  With a few hand gestures, a Visa and a little back and forth we were checked in and pointed to El Taste, a restaurant that lives up to its name.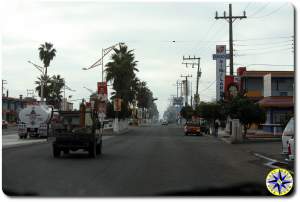 The evening was filled with sopa tortilla, authentic chili rellenos, spicy rice and beans followed by our usual fine cigar and bourbon back in the Hotel Oasis' courtyard.  Sitting in the palm filled courtyard we relived the day's events, laughed about the goats in the road and screamed "stickers" at the top of our lungs…  Another day in the Baja and we still have all our fingers and toes.  I'd call that success.