Day 2 Stats
Start: Wilsonville, OR
Finish: Twin Falls, ID
Miles: 572
The crack of dawn departure came around 8:00 am as we left Club Killelea and jumped on the freeway out of town. The map took us right by Taylor Made Graphics so we stop in and said hello to Mike and Turner. Of course Mike had to tell Boy a few road trip horror stories from our child hood. Something about me punching his head, him crying and Nana yelling at him to quit fussing… Not exactly how I remember it but he sold it to Boy with conviction. Boy especially liked Mike's best Nana imitation. Mike even through a little shirt swag our way so we would not have to do laundry for one more day.
Driving East on 84 you go by a number of incredible sights, Roster Rock State Park, Multnomah Falls, Bonneville Dam, and The Dalles.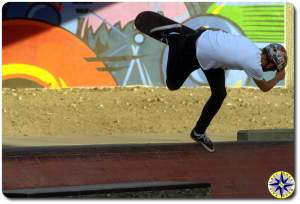 But did we get out, see the sights, hike to the top, look over the edge, or even slow down to 35 mph…
NO… Boy was asleep like a rock through most of the first 150 miles. When he did wake, "Whats for lunch?" were his first words… Is that drool on his shirt?
  There are not a lot of twists, turns or road changes that you need to worry about when you drive to Idaho. In fact there were none. We started on 84 East and we are still on 84 East. The road is long, straight and hot. In the shade, at the rest stop, Hula Betty was starting to melt in the 93 degree weather. On the high side we saw 97. Thank god I have air conditioning. That was for my wife. Boy and I both look at each other when at 9:00 pm the temp read 85 and we thought how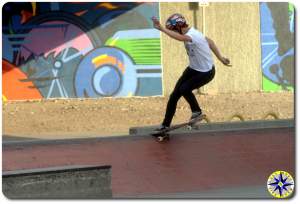 nice it was that it had finally cooled off.
Everyone knows Boy skates. In fact he starts to vibrate like a tuning folk if he is not riding his board at least once a day. Luckily, Boise has a skate park under the highway ramp. It was still hot but nothing was going to stop Boy from shredding the park. A couple of mini-ramps, a fun box and several rails set up for skaters, it was a little brick sitting ledge that he focused on to through down a back side boneless and tail slide.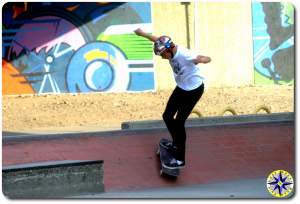 Did I mention, even in Boise, ID you can find diversity in the people who live, work and play their. These women caught my eye as they walked by the skate park. Although I did not get a chance to talk with them, the waitresses at Denny's were very chatty and wanted to know all about the tattoo.
Once Boy got that out of his system and at 90 some degrees it did not take long, we were back on the road. Loosing an hour to mountain time, our quest for a room in Twin Falls ended today's drive just after 10:00 pm. Boy was making some speech about how he was going to swim in the pool all night… right after he rested for just a little bit. Is that drool on his shirt?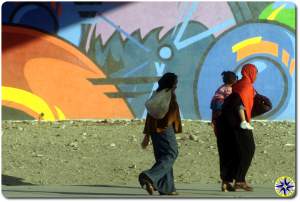 Joyce: we know you have the big love and we would never waste it on room and board. We simply put you as the kids guardian in the will. You should start praying we live forever.
John: Club Killelea is worth every penny. BTW: I'll be sure to report that $110 to the IRS on my expense report.