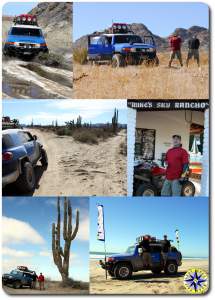 Here is a quick index to our Baja off-road adventure. This off-road adventure was unbelievable as we followed the famous Baja 1000 race course.  We went looking for adventure, solitude and friendship.   What we found was so much more.
We hope our story, pictures and video encourage you to start your own adventure.
If you don't like reading…  Our Baja Off-Road Adventure HD Video will let you watch the highlights.
The day by day progress of this epic road trip:
This adventure had it's stutter steps getting off the boards… Start at the very beginning
We want to thank all our sponsors, including lead sponsor Metal Tech, who helped make this adventure possible.  Please be sure to let them know you appreciate their contributions.
Visit Amsoil and Discount Tires too.