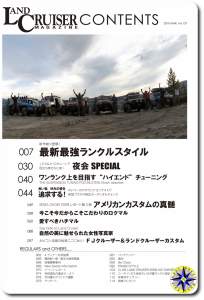 Remember our Rubicon Trail off-road adventure, the "2009 Metal Tech Invitational"?  I know you do…  Cause I don't want to hear we do all this for nothing…  Ok maybe not for nothing… We do have a blast!
Well one of the members of the team on that off-road adventure was Yoshi, a photographer and writer for Japanese Land Cruiser Magazine.  Yoshi's pictures and story hit news stands in Japan and sure enough Hula Betty and the Blue Bunny made the cut.
Turns out Japanese readers love seeing all the great places there are in the USA to drive off-road and reading about the Toyota trucks we build to make take on those off-road adventures.
Now if we only read Japanese…  I hope they spelled Hula Betty correctly.