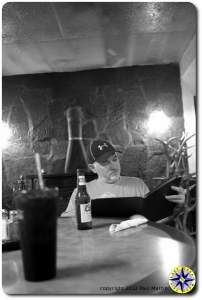 Last Great Road Trip finalizes its Baja off-road adventure team.
Last Great Road Trip Selects Brad Day, Hollywood film executive and adventure traveler as the team's navigator and photographer for its Baja off-road adventure.
FOR IMMEDIATE RELEASE
PRLog (Press Release) – Sep 06, 2008 – Brad Day has been named team photographer and navigator for Last Great Road Trip's Baja off-road adventure. Brad's background in film and travel will ensure the team stays on course as they follow SCORE 2007 Baja 1,000 race course. As team photographer Brad will capture the imagery of Baja Mexico, its people and the roads much, much less traveled.
According to Paul Thompson, the team's lead driver and project manager, Brad fills a significant role on the team. Paul said, "This is the first off-road adventure where orienting and navigation are critical. Brad's attention to detail and planning will ensure we stay on course regardless of what the Baja throws at us. As a photographer, Brad's images will enhance the off-road adventure website postings by adding a visual story telling component to our story."
While this selection deviates from the father son teams that went to the Arctic Ocean and the peaks of Telluride, it does reunite two fraternity brothers and represents a new chapter in the relationships explored on the road of life. The new team will continue to post on the Off-Road Adventure website  and social media with stories, photos and video of their Baja Adventure.
# # #
About Last Great Road Trip:
A series of off-road adventures taken by a team of explorers shared with others over the Internet. The website, an experiment in social media, describes the adventures, friendships, rants and raves on the road of life as they happen. Explore hidden trails, back roads and the diverse cultures that enrich this shared experience while adding your own comments to the adventure.
# # #