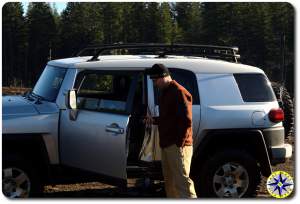 The great thing about the Internet is that no matter how obscure your obsession, there is someone else out there like you looking to get together and have some fun.  Paul sent out a note asking if we (Hula Betty & me) would be interested in exploring the Tahuya State Forest ORV trails in a pre-run for an upcoming off-road adventure he would be leading soon.  Since Tahuya is really in our backyard, we jumped at the chance to wheel and put the new suspension through it's paces.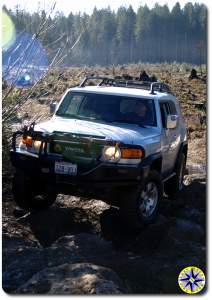 The little town of Belfair is just a stones through away from the trail and the standard meetup place for groups heading out to the Tahuya Forest. Pulling into the Safeway parking lot and hopping out to grab a quick Starbucks, we could see that Paul and his dog Tucker, had grabbed an early ferry and were already there waiting for us.  A few good mornings and a short drivers meeting than off to the trail head to air down and go exploring.
The morning was amazing; clear, sunny and 27 degrees as we hit the trail following Paul, his frozen exhaust hanging in the air as we climbed the first frosty hill.  It had not rained in a number of days and the trails were that perfect combination of soft moist loose dirt and axle deep, ice covered puddles.
Paul lead us up and down the hills through the forests as we settled into driver mode.  When you take your rig off-road you accept a certain amount of risk and each scared tree we passed reminds us of the carnage that 4×4 trails can extract on anyone's rig who is not focused on the job at hand.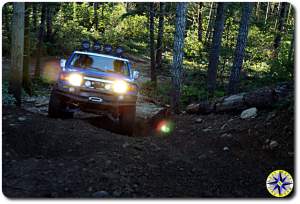 Regardless of how much you read and talk about there is nothing like seat time to teach you how the rig will interact with obstacles on the trail.  We were reminded of this as we came to a tight little obstacle.  You come down a steep short hill, take a hard right hand turn and come upon a puddle where you squeeze past a stair step guarded by a tree on the passenger side while climbing up and over a large set of roots on the drivers side.  We watched as Paul walked up and over, placing his rig on the correct line.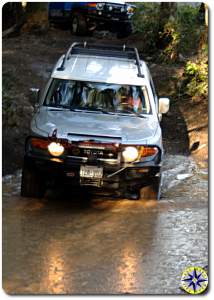 Taking our turn, we showed all the poise and grace of a bull in a china shop and as we prepared to work through the obstacle, our rear wheels slid down the wet roots only to fill the cabin with the sound of metal and wood introducing themselves to each other.  The rig had slid into the scar covered tree standing as tall still as a marine sentential on the right side of the trail…  This is no trail for old men… and we scooted back a little, re-lined the rig, engaged the e-locker and climbed over the mass of roots that had made us its bitch only moments earlier.
Pulling off past the obstacle, it was time to look and see the price of this lesson.  Turns out our installation of custom rub rails on the metal tech sliders was a life saver.  The rails did there job perfectly and kept snarled bark and tree sap inches from the rigs exterior skin avoiding any physical damage and minimizing the emotional seizures.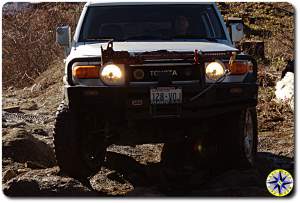 Turns out Paul spent time at Bill Burke's off-road courses and learned well the skills needed to spot us through various obstacles.  When we came to Tahuya's rock garden Paul, Tucker not so much, helped me pick an easy line through the boulders.  Paul clearly understands how help others, less capable then himself, gain the skills and confidence needed to safely navigate trail obstacles.
There is an official Tahuya Forest Map, but the map does not show the dozens of spurs and cross trails that interconnect, putting any good corn maze to shame.  We explored the area for hours wondering down anything that looked interesting and occasionally going in circles but always coming back out onto a new and interesting trail section.
It was over lunch that I really had the opportunity to chat with Paul and share the stories that brought us to this place in each others lives.  Turns out Paul and I share numerous similarities including careers in tech, family backgrounds and a stint in the state of Michigan.  And while wheeling is always fun, it's the chance to make new friends that is my favorite part of these outings.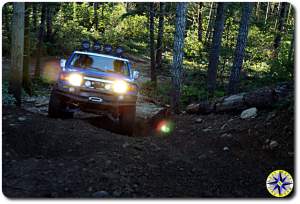 After lunch we climbed back in the rigs to find mud lake.  Looking up on the dash to get the go ahead from Hula Betty, the outside air temperature now read, 29 degrees as we headed for the trails.  Despite looping back and forth through the forest, we never did quite find the lake, but enjoyed exploring spurs that brought us in and out of the sunshine and rambled over several new sections.
After a full day on the trails we made our way back to the parking lot to air back up.  With the rigs back in street shoes, we bid goodbye to the trail and each other as our two rig caravan worked its way back up the highway to our separate homes.  With any luck we'll have several more opportunities to spend time with Paul and Tucker on the trails, down the road.