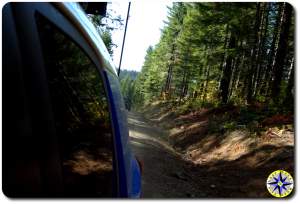 So how do you become an internationally recognized off road driving, winching and safety trainer? Well if you are Bill Burke you start with a resume that looks like:
One of 2-person team to represent America in the Camel Trophy, a grueling 1200-mile rally across Africa (1991)
Developed and presented Camp Rover West, now known as "On the Road…", practical driver training seminars and guided trail rides for 4-wheel drive/SUVs and their owners
4-Wheel Drive Training Editor, 4WD Toyota Owner magazine
Teach 4-wheel drive techniques and environmental awareness to U.S. Forest Service and Department of Interior including U.S. Geological Survey (USGS), Inter-agency Fire Response Team, U.S. State Department, Bureau of Land Management (BLM), and Bureau of Reclamation (BOR) on an ongoing basis
Instituted Toyota Technical Center 4-wheel drive training program for Toyota Motors' Worldwide in-house Certification
Provided 4×4 safety training to managers who are responsible for mining exploration and operations in the Andes through Mark One S.A., Lima, Peru
Provide input to Toyota engineers on FJ Cruiser design
What Bill's 4×4 adventure list doesn't even begin show is his skills or easy going, no nonsense, hands on approach to training.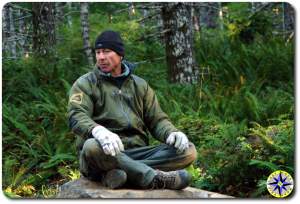 Did I mention there is a bit of unconventionality in his methods.  Let me explain…
Bill had us drive on a course he laid out that weaved across the trail, down the ditch, squeezing between the log and that big sharp snag on the right, back over the ditch around his rig, over the other log around the other side of the trail, past the bush pile and finally squeezing through the rock and log back onto the trail… BLIND FOLDED!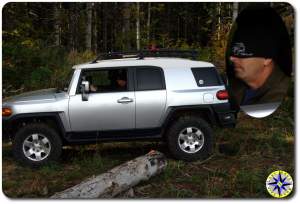 And when we all made it safely…  Bill had us do it again in REVERSE…  BLIND FOLDED…  Welcome to spotting and trusting your spotter…  Use the Force Luke.
This off road adventure was put together by Paul (the other Paul) from the NWFJCC so except for Dwon from Oregon Photo Safaris: Photography Training Oregon Geotoursim and Bill everyone was getting to know their FJ Cruiser a little better.
A big part of the training involved running the trail without A-track or rear lockers in order to keep us focused on picking the right lines and thinking about traction aids as tools to be used when necessary not crutches for bad line selection.
So you own a hi-lift jack.  Any idea how to use it correctly?  Do you know how to set it up and use it as a winch?  We do now…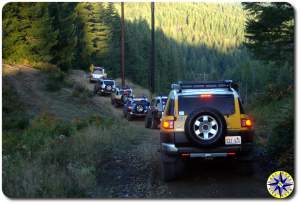 and a little tip…  carry a rolled up magazine so you can shorten a winch rope or tow strap.  Once you know how to use a hi-lift jack correctly, they are not so scary and open up a truck load of options for getting yourself unstuck.
We ran a number of winching scenarios in order to practice assessing the situation, working with the driver, coordinating help, setting our rigging, hand signals, and getting the rig through the obstacle.
Bill runs a Land Rover Defender 90, but as part of the initial Toyota FJ Cruiser prototype test drivers he provided feedback to the Toyota engineering design team.  His knowledge of the Toyota FJ Cruiser is very deep.  Bill effortlessly rattled off FJ Cruiser ring and pinion gearing, electrical schematics, suspension geometry and drive train specs followed by explaining how the components affected our wheeling capabilities.
Whether on the trail, around the camp fire or during a lunch break, Bill shared his knowledge in a way us mere mortals could understand.  Over the three days course Bill never seemed to run out of good information to share with all of us.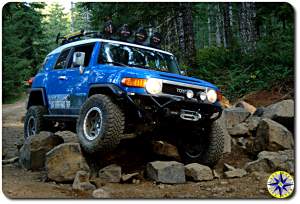 Done right wheeling can provide a lifetime of learning and Bill Burke's training was a big step forward in filling the mental rolodex with information that can ensure we get back home safely or avoid trouble all together.
Of course there are more pictures… Bill Burke 4×4 training photos on Flickr.