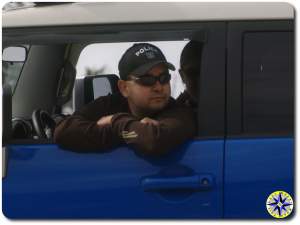 Ok, let me start by putting this out there…  While most of the club is camping out by the dunes enjoying the great outdoors, I'm ruffing it in the local Holiday Inn.  And sure I gave up the pit toilet, leaky air mattresses and wet tent for running water, hot showers and sleeping on a soft bed.  Instead of cooking over a Coleman stove I'm  dining our in restaurants.  But somehow I did manage to get get by.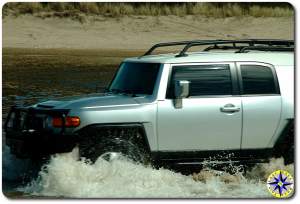 It's suppose to rain on the Oregon coast in spring…  Just nobody told the high pressure system that is keeping the sun shining this morning.  This morning we gathered at the Goose Pasture staging area to spend the day running the South Jetty to Siltcoos dunes area.  On the way down I had stopped at Metal Tech to say hi and before leaving, Mark boxed up some cool swag which made for some great door prizes and set a positive tone for run.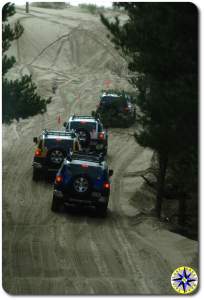 If you have never been off-road here, the trip is a must.  There is sand stretched out as far as you can see, dotted with little quads that look like ants crawling in the sand.  We learned form last nights hill fiasco and had aired down to 15 psi before we ever hit the dunes.  Now we were riding high on the soft stuff cruising up and down the hills.
I enjoy running as the tail gunner watching everyone play ahead.  This run was no different. With Jeff in the lead we weaved our way all over the sand stopping on top of the dunes to take in the sites and ensure everyone's' rig was performing as expected.  And although many of the rigs are sporting a truck load of mods, the stock FJC in the group was easily keeping up…  go figure, Toyota built it pretty well from the start.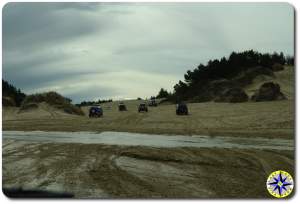 My co-pilot for this off-road adventure is an old college buddy, Kevin and while not nearly as excited by wheeling as I am has made this a trip to remember.  Much of what makes wheeling fun isn't tackling ungodly obstacles or forging raging torrents, although that certainly helps, its the chance to spend time with old friends and meet new ones.  Rolling over the dunes Kevin and I caught up on everything from kids to world politics and still had time to listen to a Jimmy Buffet tune or two.
We had anticipated lunch would have everyone stuck in their rig keeping out of the rain.  What we experienced in a sunshiny little fresh water oasis was the comradeship of the club, chatting, sharing stories of other runs, planning new runs and telling each other how we got into this sport.  We also confirmed there were more girl friends ridding shot gun than wives…  But than again after 20 some years of marriage you learn what is a dating ritual and what is the post wedding reality…  Wouldn't trade it for the world, Hun…  Really!
The drive over the dunes had taken us from the northern end all the way south and now we dropped down onto the beach to parallel the Pacific as we shot north to meet Brian.  Brian had taken his rig up to Metal Tech where Mark completed axle repairs on the field dressing we performed the day before.  Loosing only half a day's run, Brain was back as some of the club swung around to head back into the dunes for a few more hours of fun in the dunes.
No one broke anything, no one got hurt and everyone had fun…  Day 2, a very good day.  Tonight we bowl!