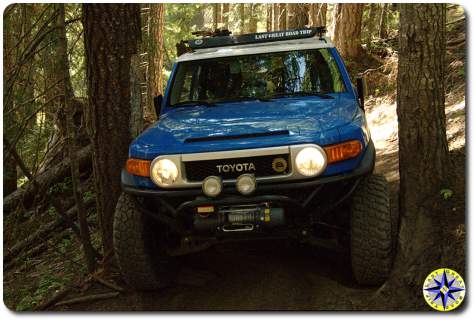 We've gone across the Rubicon Trail in our FJ Cruiser twice without so much as a scratch… well without noticeable body damage.  But it is the relatively easy Naches wagon tail that seems to always cause us problems.  Sure we have followed the Naches wagon trail dozens of time to cross over Washington's Cascade mountains but it's this easy trail that has caused all of our body damage.  And this time we captured it on video!
We all have those places we cherish and this trail remains one of our favorite ways to spend a day.  You're hard pressed to find a trail with more spectacular scenery.  There is just enough hill climbs, off camber and bumps to keep it fun along with several tight squeezes that prevent you from thinking this is walk in the woods.
Maybe it's karma, maybe it's just bad luck, or what ever that this wagon trail we love caused us so much pain.  Will it stop us??!! Absolutely not!   We really do love this place.