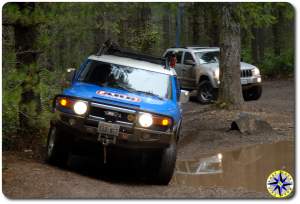 Looking through the forums I read "Novice Tahuya Run Saturday May 3rd".
Here was an opportunity to wheel off-road right in my own back yard. More exciting was an opportunity to make some friends who enjoy wheeling. We have a number of expedition type wheeling adventures under out belt, but need a little more technical trail experience. With that in mind, we set off for the Tahuya trail meetup. A number of folks showed up for the run, some in FJ Cruisers and others in Jeeps. These folks traveled from Edmond, Olympia and everything in between to try out the trails.
This was a novice run led by Laurence and John. There was never any pressure to try a trail you felt uncomfortable on or force a bad line rather than backing up and trying again. We also had the opportunity to watch the more experienced folks work more difficult lines including this short video of Laurence guiding John up and down a tight little incline.