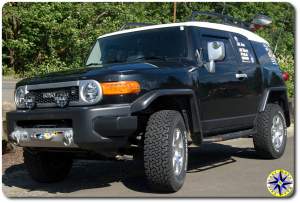 The Northwest FJ Cruiser Club out of the Portland area was going to run the Tillamook Forest OHV trails at night and it seemed like the off-road adventure to try out our lights from Baja Design. It also presented an opportunity to meet up with my old buddy Kevin and introduce him to all the craziness of my mid-life crises.
Pulling into Tigard, Kevin and his family welcomed me with open arms. They always keep my favorite couch ready for just such an occasion, no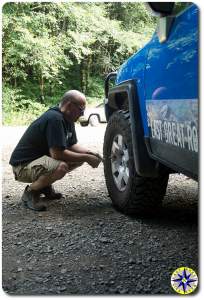 matter how late I show up. These are the kind of friends you can drop in on after a long absence and it feels like you were never disconnected. You know, those guys you stay up late chatting with, sharing stories of your kids, work and the fishing trips you planned but never got around to taking. That is Kevin and his family.
Browns Camp is in the Tillamook State Forest filled with moderate rated 4×4 trails connected by logging roads and perfect for a long night of wheeling. We caught up with the club at a little dinner, Coleman's Shady Rest, a few miles from the trail where we ate, gassed up and introduced ourselves.
At the trail head everyone settled into the business at hand, airing down tires, double checking equipment and comparing rigs. Bernd, who we met and wheeled with on our FJ Summit Adventure, was going to be our leader with Jim, the club president, as tail gunner.
The rest of us… settled into the pack as we saddled up for this off-road adventure. I choose the last slot just in front of Jim so I could watch the parade of FJ Cruisers through the woods.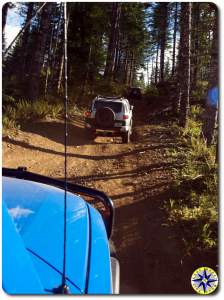 Bernd took the group out around 5:30 pm so we could get in some trails while the sun was still shining and ease into wheeling on the dark side of the moon. This turned out to be a good thing since we had the opportunity to assist a motorcyclist stranded on the side of the trail. Those guys don't have a lot of room for gear and he needed a socket to pull his spark plug.
Our group pulled together, found the right socket and helped get him back on the trail. You never know when you're going to need a little trail Karma so we took the opportunity to make a deposit into our Karma accounts.
Kevin and I have gone all over the west chasing salmon and trout with a fly rod but this was our first off road adventure together. As navigator Kevin was responsible for ensuring we didn't get lost and photos. Kevin is a great photographer. He sees the angles and opportunities others miss. The photos on this post… All Kevin.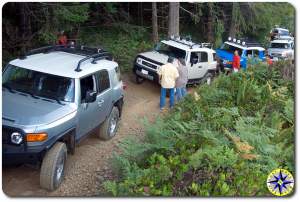 Women will tell you size matters and they are right when it comes to off-road lights. When we turned on the roof lights the folks in front got a sun tan and a few planes started to divert from their approach at PDX . In fact for the trail run we only needed our Soltek lights down on the bull bar since they put out so much light and throw a nice wide patter. But lets be honest here, we turned them all on just so we could signal Bat Man and feel our testosterone levels spike each time we hit the switches on those bad boys.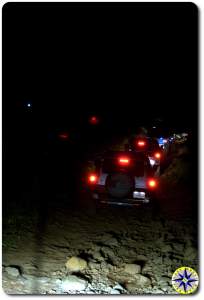 Running at night on tight, sometimes really tight, trails is a whole different animal. Night runs give you the sense your in another world with ET lurking just outside of the light's reach. You definitely focus on the trail since there is none of that beautiful landscape to distract you. And when you do stop to rest, the Milky Way Galaxy seems to spill out of the rig with you, bathing everything in light while still hiding the mysteries of the forest.
This run was definitely a hit. I opted out of a few obstacles since I'm still in practice mode with the more technical trails and I'm ok with building my skill level before tackling the extreme stuff. I did get an opportunity to see how others picked lines and they made it look easy. When it was all said and done, we met some great people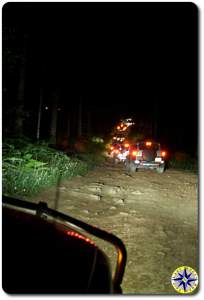 who enjoy wheeling and we found out we had a lot more than rigs in common. With any luck I'll be running more trails with this group down the road.
The long night didn't get any shorter as Kevin and I decided to pay homage to Boy by stopping at, you guessed it, Denny's for a late night, early morning burger before pulling into the homestead sometime around 2:00 a.m.
Long days, good friends, new trails… not a bad way to spend a Saturday night.