When we started this off-road adventure website almost five years ago, we had one goal. Put it out into the world and see what comes back. Don't take it too seriously and above all… don't worry about the destination, just enjoy the journey as it unfolds.
This morning the big hand was on the twelve and the little one pointing at the ten… That's analog for 10 o'clock to the digital kids in the crowd. The rig was load and we were burning day light. Lots of plans ahead of us before meeting up with the NWFJCC and wheeling in the Tillamook State Forest. No time to waste, we had to get going.
A few blocks out of the driveway and around the corner we saw a group of 40's vintage cars gathering in the Home Depot parking lot. We honked… they waved… and we kept going. Just past the parking lot, parents and race officials were setting up cones and unloading soap box derby cars. We'd seen them setting up here before and had thought, one of these days we have to stop and watch… but we're on a mission and have a schedule to keep, so we kept going.
Five miles down the highway and it hit me…  like a slap in the face from a woman scorned… it hit me hard. What the hell am I doing… If Hula Betty and I don't have time today to check out cool vintage cars or watch a soap box derby, when will we have time?  And what is so important that we can't stop? The universe is opening a door… why not go through? We have six hours to make a three hour journey to the meetup, so what is the rush?
We took the next exit and promptly turned the rig around, driving back to check out what other folks were up to on this brisk spring morning.  To my dismay, the vintage car club had already headed out for part unknown but the derby was still defining the race lanes with bright orange safety cones on the street they had closed off for the race.
Something interesting happens when you show up with an SLR and act like you know what you're doing (ACT being the operative word).  People let you poke around and ask all sorts of questions.  Turns out these kids are part of the All-American Soap Box Derby.  These local derbies are held throughout the country to award points to racers who have their eye's set on racing in the championship held every year in Akron, Ohio.
I chatted with some of the young racers who were very eager to tell me about the different classes, how they built their car and the speeds they attain down the track. It was amazing to see how intense these kids were; discussing race strategy with their parents, glaring down the track looking for the fastest lines through the slopping turn and making last minute checks on their race cars.  The excitement isn't just limited to the kids.  Talk to any of the parents or grandparents on the side lines and beams of pride almost blind you as they tell you about their young racer.  How they sold lemonade on the corner and worked odd jobs to save up for their car kit or how they way they worked endlessly on the car to get it just right or where they are in the standings this race season.  It reminded me of watching girl and boy play basketball back in they day when they were little and how I'd shout out with excitement every time they put up a shot.  Didn't matter if it went in or not, I was so proud that they were out there trying, doing their best and having fun… they were my kids on that court and MJ couldn't even hold a candle to them out on that floor as far as I was concerned.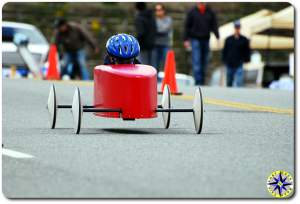 Before today, I knew about soap box derby but hadn't actually experienced it.  No, racing in the soap box derby is not on my bucket list or even some unfulfilled childhood dream.  But it is apart of Americana, our collective psyche where individuals chase their dream of doing something special.  Everyone has something they enjoy… that they call their own. These kids are racing with gravity, others are restoring vintage automobiles and a few drive thousands of miles to take perfectly good rigs through crooked, muddy, tree lined, rock encrusted off-road trails, trying to avoid the carnage that comes when metal and granite attempt to occupy the same space.
We all have something that makes us smile.  Today what made me smile was remembering life is too short to not stop and watch the soap box derby…