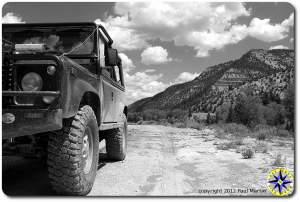 As a boy I explored the woods, lakes and creeks around the neighborhood pretending it was the jungle of the Amazon, the deserts of the Sahara or the plains of Mongolia.  This spirit of adventure grew when I passed my drivers test and began to explore further out in my Baja Bug, which I held together with duct tape and chewing gum.  It was about that time that one of the most famous overland adventure competitions came to my attention, the Camel Trophy known to many as the the Olympics of 4X4.
History shows the British have always left their little island and explored the unknown (to them) areas of the world.  They also began their adventures with big fan fare and the Camel Trophy was no different.  Pulling teams from various countries and putting together some of the most adventurous locations and difficult terrain, the Camel Trophy threw British Land Rover onto the worlds stage for their go anywhere off-road adventure vehicle. A category they owned for decades. Think safari and I dare you to not picture a gear laden Land Rover with nation geographic photographers pointing cameras in every direction.
And you really gotta like that cross between the BBC and Wide World Of Sports commentary that accompanies a British adventure. They make even a trek through the swamps sound like they are discovering the cure for cancer.
The Camel Trophy hooked me on off-road adventures. All that adventurous adrenalin addiction, teams working against the elements and an Indiana Jones sense of style. What's not to love!  I've come a long way from those back woods in my little VW Baja Bug but that same desire to see what is around the next corner still exists.
And with big tobacco out of the picture any ideas on lead sponsors… What do you think about the "Google FJ Trophy"? Maybe we can get the guys from Top Gear involved to keep that British flare.