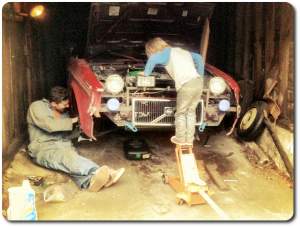 Friends will tell you we're cheap…  hold onto a nickel until the buffalo squeals cheap… after all it is difficult to part with hard earned money. However that does not mean we're not willing to pay for value and there are somethings you just can't put a price on.
The internet is a great resource.  You can find cheap parts, how to instructions and lots of opinions on what ever widget you have to have for your rig.  You can find it all but that doesn't mean you'll get everything you need.
So what constitutes value?  For us it is a shop that takes the time to work with us, explain options, spend the time needed to educate us and do what it takes to make sure we can make an informed decision.  And if things don't go as planned the shop works to make it right.   Usually these shops are run by and filled with guys (gender neutral non-specific use of the term guy) who are real wheelers and car guys.  If you listen, they will impart wisdom to you that you can't buy.  Whether you're headed to Rubicon, the Baja or a road trip to Key West, they want to make sure your experience behind the wheel is one you wont forget.
When you find a shop that delivers great value don't squander the opportunity.  Develop that relationship…  and that relationship goes both ways! When you find a shop that provides personal support, impeccable service and great value for the price be loyal.  — Rant time: and by loyal we mean, don't work a shop by asking for a lot of how to help or expert advice and then cruise the Internet for cheap parts that the shop sells.  Yes talking with customers and helping them with advice, recommendations and insights from years of experience is good for business but don't forget it is customer service so be a good customer if you take them up on the service.
We've been extremely lucky…  we have found two great shops. You know that Metal Tech 4×4 are our go to guys when it comes to our rig.  Metal Tech produces and sells top quality aftermarket protection parts for your Toyota rig.  They will spend the time to make sure you get the information you need to pick the right protection and suspension components for your style of wheeling.  They will install the parts or help you understand how to install them yourself.  In fact it was Mark, one of the owners who helped us get into wheeling and has been instrumental in developing our skills…  He has probably forgotten more about wheeling Toyota's than we'll ever know.  A big part of us taking on Baja was based on the skills Mark and LT taught us when they let us tag along with them on the Rubicon a few years back.
More recently, we picked up a used commuter car while the Blue Bunny goes through its latest incarnation over at Metal Tech 4×4.  I can promise you, any 24 year old car needs a little love to stay in top form and our "new to us" commuter car was no exception.  Sure we enjoy working on cars, just check out or videos, but there is a lot to be said for having a shop that you trust who will take care of your car like its their own. Especially when your daily commute is 150 mile round trip every day.
When it came to finding a repair shop for this car we called a couple, then made an appoint for them to look at the car and provide a recommendation for its care and feeding.  Sure it was their chance to checkout the car but it was also our opportunity to see what they would find (we already knew a couple things they should find), how they would present a prioritized work list and see how they keep the shop looking (especially at the end of a busy day). The shop that stood out for us was Silverdale Autoworks. They found what we expected and a little more.  They gave us estimates for the different work and ranked the work according to priority based on what we told them was important to us.  Now with some 25,000 more miles on the car and a few trips to the their shop to repair an oil leak, refresh the cooling system and change more oil than we thought one motor could hold, Silverdale Autoworks has proven their value and earned our loyalty.
Is there a moral to this story? Yes. Take the time to find a shop that will provide you with great value and reward that shop with your loyalty.  If you work with the shop, your car guy will do his best to make sure your car or rig can take you on the adventure of a life time.