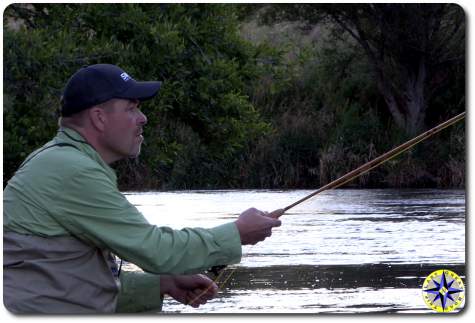 Growing up, fly fishing was my escape into the great outdoors.  In fact it was the desire to go further off the beaten path that spurred on the need for an off-road vehicle.  In those days it was an old VW Baja Bug that I built to explore the abandoned forest roads in search of a hidden creek or quiet lake.
Back then the Deschutes river, was 100 miles away, had a spot down an abandon dirt road that lead to place few people bothered to go known as Mecca Flats.  Mecca Flats was really just a dirt patch, a starting point from where I would follow a trail along the river, fishing riffles, runs and back eddies for the next five miles.  Mecca Flats was base camp for my adventure.
For all that driving and hiking I would get to wet a fly line on one of the best blue ribbon fisheries in the west.  Trout averaged 14″.  Wild salmon and steelhead runs were always strong. World famous Salmon Fly hatches and year round Caddis Fly would bring the trout to the surface almost anytime of day.
Today the drive is closer to 300 miles.  The long dirt road has been graveled, but just barely. The open dirt camping at Mecca Flats now has designated numbered camping spots with tables and fire rings.  Day fishers have their own parking area and an outhouse.  But thanks to strict regulation trout, salmon and steelhead still fill the river and there is a good chance you'll be into one within minutes of wetting a line.
Fly fishing is still one my favorite escapes into the great outdoors.