E
very phone is a camera… every Instagram user an artist… and every adventure is an opportunity to share a unique experience with the world.
The tools available through Instagram, GIMP (our personal favorite), Photoshop and others lets anyone take their digital images and craft them into a shower of color that brings out the true magic of their off-road adventure.
Some may say that these altered images are fake. We disagree! We're not recording history here. We're telling stories and the images shared on this site help tell the story, conveying the emotional experience of individuals who took the pictures on their adventure.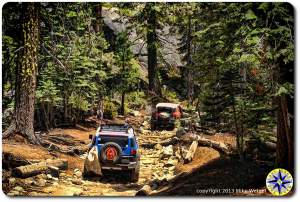 The off-road adventures we go on, put us in places of amazing beauty. These are often locations with rugged landscapes that can be extremely difficult to reach and only a lucky few will ever see.  Our website's goal is to share these experiences and inspire others to embark on their own adventures in hopes that they will in turn share their stories and images encouraging even more people to step out of their comfort zone.
The images here that Mike captured of the Rubicon Trail scream adventure.  Mike gives everyone a peak into the emotional experience and raw energy of the trail.  Through Mike's images the description of calm green serenity fills the  mind.  Other times its the expansive blues that reminds us all how small we are in the universe.
Each of us will see something different in the images we view.  The feelings that an image evokes depends on our own experiences and where we are in our own journey.
For me these images speak of camaraderie and the friendships found in a shared struggle as you overcome adversity together in order to achieve a goal that alone is unattainable. On this off-road adventure that shared struggle was the Rubicon Trail.