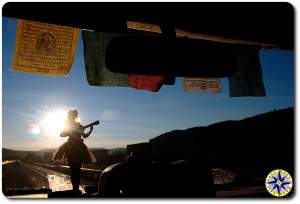 Ruby red lips, shapely hips and nails that shine like justice she can make an honest man lie, a rich man beg, a good man steal and a strong man cry.
It didn't start out that way. She began life as a fabulous dashboard icon. Those who remember back to the Arctic Circle adventure, recall when Hula Betty joined the team and started appearing in the photos. You may also remember her mysterious disappearance. Although no charges were ever filed, rumors of her death continued to circulate on the Internet and grocery story tabloids.  There was even talk about resurrecting Molder, Sculley and the Lone Gunman based on a Hula Betty government cover up conspiracy.
I am happy to report that the stories of Hula Betty's death have been highly exaggerated. In fact Hula Betty has started her own website dedicated to celebrating diversity and promoting tolerance. Hula Betty's Twitter page and Facebook, chronicle her micro road trips around town and the Northwest with text snippets and pictures.
Like so many iconic Bettys of the past, Hula Betty has evolved.  Once a simple bobble doll perched atop the dash, she has taken on form and flesh that often only live in the letters to playboy.  But don't hate her cause she's beautiful…  She lives in the now, turning a drive to the supermarket into an road trip adventure and looks at a traffic detour as opportunity to explore the unknown.  Hula Betty lives her life to the fullest, taking every chance she has to meet new friends and encourage others to put an adventurer's lens on the simple things in their own lives.
Hula Betty tries to bring out the best in all of us and we hope that we can live up to the standard she has set for us.
BTW: Those of you with a discerning eye were obviously drawn to Hula Betty's little tattoo and yes…  it was inspired by the lore of the blue bunny.  She wears her blue bunny for Boy and his willingness to explore the world around him as well as his ability to live on a diet of ice cream, chips and Mountain Dew.
And if you think Hula Betty is just another pretty face…  It is with her help that we are able to bring you our off-road adventure videos.  You can see her work on her off-road adventure video channel on You Tube or off-road video Vimeo channel.  In her own words "It is all about the people.  They have stories and I want to tell them."