Automotive nirvana by day, debauchery and broken dreams by night.  This is SEMA.
By all accounts SEMA is the premier automotive specialty products trade event, period.  It draws the industry's brightest minds and hottest products to one place, the Las Vegas Convention Center.
The SEMA Show attracts more than 100,000 industry leaders from more than 100 countries covering the automotive, truck, SUV, powersports, and RV markets.  Adding to its mystic, SEMA is not open to the public.  Like a chichi Boho model gliding past the velvet rope of New York's Up&Down club, at SEMA you have to be an insider to gain access.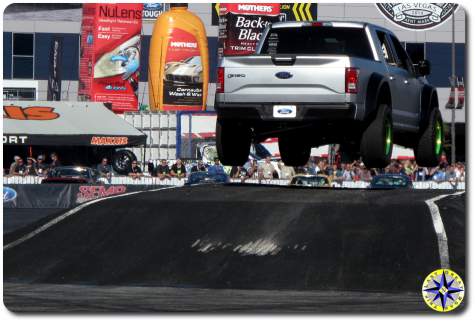 The Las Vegas Convention Center (LVCC, apparently everything is Vegas simply goes by its initials now) has some 3,000,000 square feet of exhibition space and SEMA seemed to fill it all.  The show even managed to spill into most of the parking lots, muscle cars burning rubber around a makeshift track, Baja trophy trucks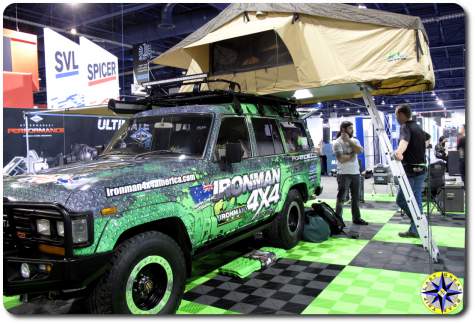 fresh from their Nevada desert runs are poised in the loft ready for the upcoming Baja 1000 and tons of exotic builds filling every open space on the asphalt.
While outside SEMA is smoking hot fun, inside is all business.  Manufactures and distributors do whatever they can to attract dealers and buyers to their booth where they can show off new product lines, discuss their M.A.P.
policies and tout seductive quantity discounts.
And in order to draw the tens of thousands of SEMA buyers into the booth:
chichi models strutting around in stripper heels
outrageously over-built and flamboyantly wrapped cars, trucks, 4x4s and SUVs
TV celebs, racers and motor sport legends signing posters
flashing lights, mega booths and lots of highly polished bling
tons of swag
and anything else that will entice a buyer to stop in their tracks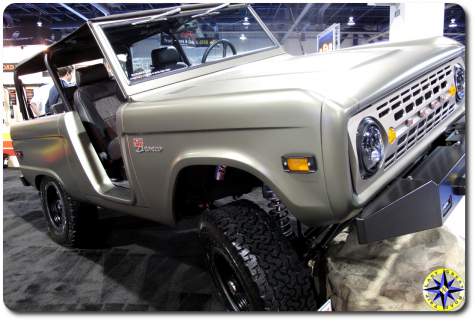 We spent four days wondering through SEMA and still didn't manage to see everything.  We didn't have time for booths showing off their tire balancing lead weights and lug nut wrenches.  Spent most of our 4 days checking out the off-road manufacturers hall.
Jeep is he market leader when it comes to shear numbers so manufactures heavily target the brand.  With Toyota calling it quits on the FJ Cruiser and no real successor named yet, the 2014 SEMA show was dominated by Jeeps and full size pickups on display.  There was the occasional Land Rover, 4Runner, Tacoma and one or two FJ Cruisers.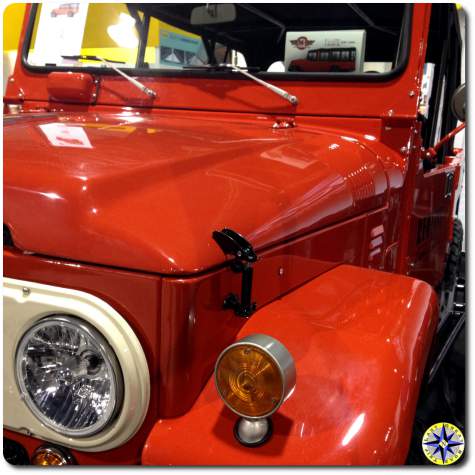 Redline Land Cruiser's new FJ-UTE was the only completely new to the market 4×4 on display.  Their production run will only be in the dozens or so each year and they have deposits covering builds for the next 18 months. Justin Robbins the designer and builder behind the FJ-UTE shared with us his favorite thing about their new truck.  Turns out he geek-ed out when it came to the CAD created CNC replica nobs.  No one had ever done it before and he knew it would be one of those things that no one notices but adds big to the overall FJ heritage experience.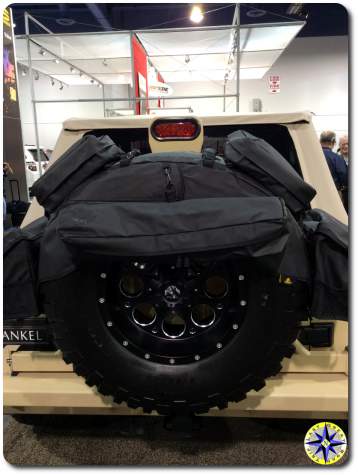 Our big scores at SEMA this year…  How about a chance to chat with Jessi Combs, the fastest woman on four wheels.  We discussed how to encourage more young women to become involved in off-road and the business side of motor sports.  Ben from COMEUP winch gave us a glimpse of their new Gen2 product line coming out soon.  Over at BesTop we were impressed with their RoughRider spare tire organizer solution which is great for keeping recovery gear handy.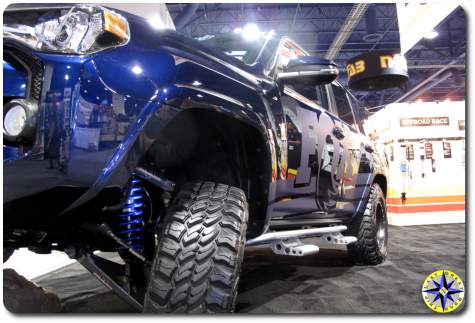 The truth about SEMA, or any other trade show, is that for everyone working the floor, covering the event or maintaining the facilities…   it is a lot of hard work!  By Friday even the chichi models were a little less bouncy and a lot less excited about those platform heels.  I've worked all side of these types of events.  I love them and I always end up working my ass off.  I'm not complaining.  It's SEMA. It's Vegas. It's automotive nirvana and I've already booked my ticket for SEMA2015!