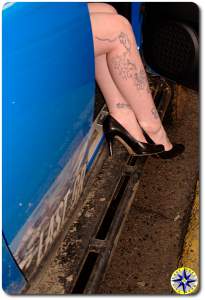 One of my friends put it best when he said "who knew your (my) midlife crises could be so entertaining".  And as everyone knows you can't have a midlife crises without fast cars, younger women and cool tattoos.  So I've decided to come clean with everyone following along on this adventure…
It all began in November of 2008 when I walked into Madame Lazonga's not really knowing what to do or what to expect. All I knew was I wanted to capture forever the feelings I experienced on the Arctic Ocean adventure with my dad.
I had walked by Madame Lazonga's for years and would see Vyvyn's name when ever magazine or news paper articles counted down the top tattoo artists in the country. The national awards that fill the wall speak volumes of the talented women who work the artist's chairs of Madame Lozonga's.  The choice seemed simple enough.
If you want to watch artists vibrate like a tuning fork and run for cover… walk into a tattoo shop, let them know you want your first tattoo but you don't know what exactly it should be. Tell them not to worry though, you wrote a blog that has descriptions of everything and they just need to turn it all into a visual metaphor of the greatest adventure ever. Not exactly how the process works… Who knew.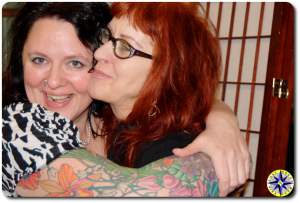 Turns out Jacqueline, Vyvyn's protege, holds a masters degree in literature from Northern Michigan University. And it was Jacqueline who stepped up for the throw down.  Funny how things come together.  Looking back there is no one I would have rather taken this journey with than Jacqueline.  And while the original adventure lasted 19 days, this one took nearly a year.
I certainly didn't know when I started this project that I would be calling Jacqueline and the other women at Madame Lazonga's my friends. You learn a lot about people when you spend several hours with them every other week. And they learn a lot about you.  First and foremost I learned these women are smart, funny and incredibly talented. I'm glad I was lucky enough to be invited into their lives.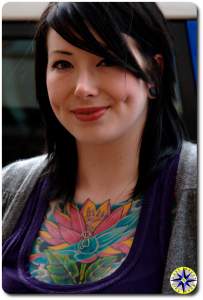 I also discovered these women have a unique relationship with their clients;  part nurse, part personal coach and part confessor.  It is amazing what people will say to the person they have entrusted with creation of their body art.  A little safety tip here: when you're a guy in a room full of women waving needles in the air…  keep your mouth shut, listen and when asked, agree…  agree a lot.
Over time Jacqueline and I shared ideas and opinions on art, music, business and just about anything else that would keep my mind distracted.  Hearing her stories of growing up in Michigan reminded me of the time I spent in Lansing.  Discovering her tech background allowed me to share work stories knowing she could relate. I learned I'm not bothered by the pain as much when I watch and see it coming… Which made the knee pit a killer since unlike the exorcist, my head could not spin all the way around.  Although occasionally I thought it would.  Jacqueline was there to talk me off the ledge when she took the needle and ink to my knee pit, shin or ankle (worst).  I talked her down after she drew Hula Betty for the third time and it still didn't feel quit right.  Did I mention I'm not visual and really bad at explaining what is in my head.  We collaborated, hung in there together and eventually ended up with a sleeve we are both proud of.
Then there is Ruby.  Ruby gives as good as she gets and has a sarcastic biting sense of humor, much like my favorite sister in-law.  Ruby never missed a chance to express her love for me by knocking me down a few rungs on the ego ladder.  Did I mention that relationships are born from pain.  Ruby taught me how the machines work, shared what she found rewarding in her art and definitely celebrated the diversity of others.
Susie, another artist, always checked on my progress as she came riding in on one of the cleanest Triumphs I've seen in a long time.  Following a day of dealing with tech guys and accountants, Susie's take on life was refreshing.  And apparently, if you're an artist at Madam Lozonga's there's a 50/50 chance you'll marry a drummer.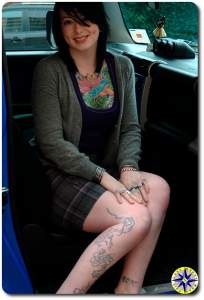 The newest addition to the crew at Madame Lazonga's is Caitlin.  And if you think she is just another pretty face…  how about this for a resume: personal assistant, model and she is now starting a line of hip tee-shirts.  Must be something in the air under the Pikes Place Market that brings smart women altogether.
Many people say tattoos are addictive.  For me the addiction is the chance to spend time with friends who opened up an entirely different world to me.  One I will never forget…  What started out as a tribute to an adventure with my dad has transformed into so much more.  This sleeve will always remind me of my dad and the amazing women who helped me turn it into a permanent reminder of a temporary feeling.
And as for the tattoo.  Boy always tells me "Go big dad or go home".  You can see  Jacqueline pulled together several big ideas to make one great sleeve:
rout map with some of my favorite stops including Dead Horse, Inuvik and Chicken
the rig that we lived in for 6,200 miles
Hula Betty herself (not just your average iconic dashboard bobble doll).
Because this piece took shape over 12 months, If you look closely at Hula Betty you'll notice she is sporting a tattoo herself.  Remember the story of "Day 6 Blue Bunny"?  With that little blue bunny on her side, my son joined his grand father (my dad) in this generational adventure forever preserved in flesh and ink.